If you're looking for a new go-to bag, we've found just the one.
It's the kind of staple classic you'll want to use every day, the perfect size to hold all the bits and pieces that tend to accumulate at the bottom of our handbags and a sleek, stylish design that makes it look much more expensive than its $49.95 price tag.
But not only does it look good, it does good too. It's a handbag with heart.
Watch the video playing above for the full story behind these handbags.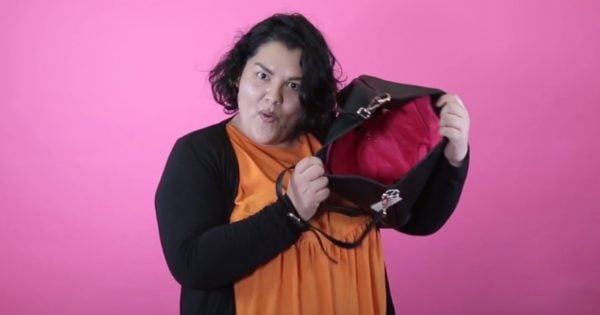 Designed by charity Share The Dignity, all proceeds go to help vulnerable women on the streets and in domestic violence shelters who are forced to go without basic things like sanitary pads during their period which makes it often a shameful and traumatic experience.
Started after founder Rochelle Courtenay read about the indignities these women faced on a monthly basis in an article on Mamamia, Share The Dignity raises funds throughout the year and holds regular drives for sanitary items as well as an #ItsInTheBag collection to give women in need a gift at Christmas time.
Listen: Rochelle Courtenay talks about Share The Dignity with Mia Freedman on No Filter. 

There are currently two limited edition designs in the Handbags With Heart range both named after women the program has helped.
The 'Jane' is a chic, vegan friendly tote bag with long straps, zip and multiple inside pockets. It's named after an enormously courageous woman who ended up in a domestic violence refuge on Christmas Day 2015 with her two young sons.