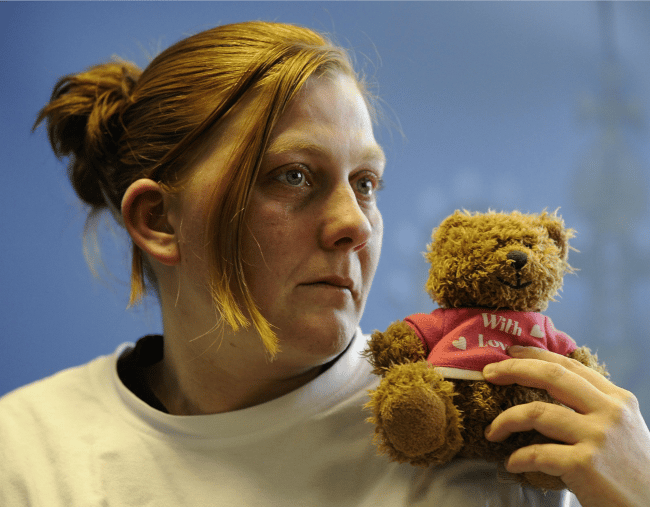 Clutching a small teddy bear, a stoic Karen Matthews looked toward the camera, dark circles under her eyes, her long red fringe falling down the side of her face.
"If somebody is out there that has actually got Shannon, he's just broken the family that we had apart. The family don't feel safe anymore. Her brothers are asking for her all the time, her sister's crying. Half the time I cry myself to sleep… Whoever has got Shannon, just please let her go. Her family is missing her, all her friends are missing her at school."
Pulled over her clothing was an oversized while t-shirt that pleaded in black block letters, "Have you seen Shannon Matthews?"
But it was all a front. Karen's nine-year-old daughter wasn't missing, there was no panic, no distraught tears at bedtime, not even the small teddy bear was real ("She came down the stairs with it before the press conference and I asked if it was Shannon's," a neighbour since told the BBC. "She said 'I don't know'.")
What was real, though, was the reward money.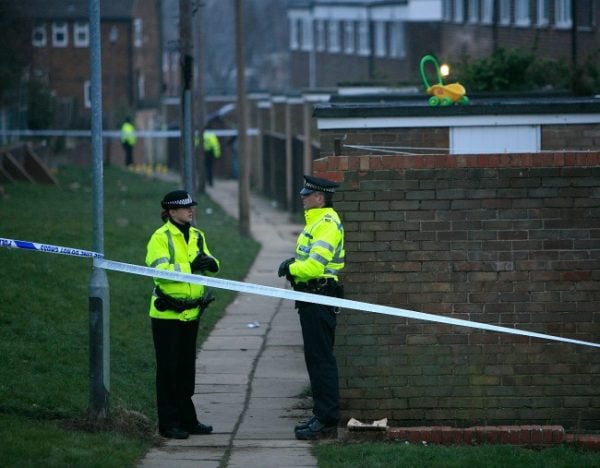 It was on the evening of 19 February, 2008 that Dewsbury Moor woman Karen Matthews phoned emergency services to report her daughter missing - last seen near her school at 3:05pm, she never made it home. With the disappearance of Madeleine McCann fresh in the British public's minds, police, media and the West Yorkshire community mobilised in the quest to find the little girl. T-shirts and posters were made, and appeals were established. More than 200 police officers -- roughly ten per cent of the West Yorkshire force's manpower -- were assigned to the case, and together they stopped more than 1500 motorists and searched more than 3000 homes.
The Sun newspaper pledged £20,000 (AUD$35,900) for information leading to Shannon's safe return, which it increased to £50,000 ($89,800) as she approached 20 days missing.
But despite the local interest, columnists and social commentators lamented the lack of public attention being given to this working class family's plight; a stark contrast from the headlines and up-to-the-minute reporting around the McCann case. As one Independent writer phrased it at the time, mother of seven "Karen Matthews is not as elegant, nor as eloquent" as the Leicester doctors.
It wasn't until the crime unravelled that Britain truly paid it heed.
On 14 March a tip-off lead police to the home of Shannon's step-father's uncle, Michael Donvan, 39, in the neighbouring suburb of Batley Carr. There the girl was found restrained beneath a bed - she had been drugged, and was frightened and crying. Donvan was arrested at the scene. Yet there were strong suspicions he wasn't the only player.
When told of the discovery of her daughter, Karen Matthews hugged her partner, Craig Meehan, but didn't ask a single question about her daughter's health or how she'd been found. In fact, as she was taken to the police station to identify Shannon, she made one remark: "I like your ringtone," she said to Detective Constable Alex Grummitt as Gnarles Barkley's 'Crazy' played from his mobile. "You must Bluetooth or text it to me."
As Grumitt later told Leeds Crown Court according to The Indepedent, "I thought 'We've just found your daughter and you ask about the ring tone'. In my opinion, it just wasn't right."
Three weeks after Shannon was found, Matthews was confronted by two friends in the presence of a detective, who hoped they could elicit further information. When questioned if she had a role to play in her daughter's kidnapping, Matthews paused, breathed deeply and dropped her shoulders. "Yes, that's right," she said according to The Guardian, before bursting into tears. "People will hate me for what I've done and I've disgraced the kids."
On 8 April, Matthews was charged with child neglect and perverting the course of justice for her role in the plot, with kidnapping and false imprisonment charged added during a September hearing. The court heard that the plan had been for Donovan to release Shannon at a nearby market, then 'discover' her a short time later so he could take her to a police station and claim the £50,000 reward. Both adults were convicted and sentenced to eight years in prison.
While Shannon's step-father was never accused of involvement in the plot, he was convicted and jailed on unrelated child pornography charges after police involved in the investigation discovered files on her computer.
Matthews, who served half of her sentence, maintains that she was simply a "scapegoat" in Donovan's scheme, and just last week told The Sun she doesn't deserve the title of "Britain's most hated mum".
"From the start I didn't know where she was. Others were involved. I didn't have a clue," the now 43-year-old said.
"You can't kidnap your own child. I know the truth and I wasn't involved in it. I still have nightmares thinking that it's all going to happen again."
After her discovery, Shannon Matthews was taken into child protection, given a new name, a new identity to shield her from her past. She would now be 19 years old.