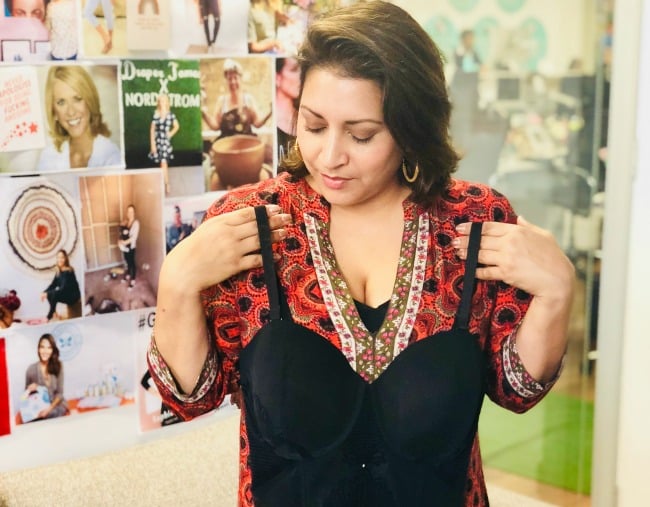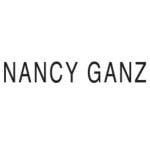 Ah, we've come a long way since Bridget Jones, haven't we girls?
You remember that iconic scene: Bridget finally gets to go home with Daniel Cleaver. They're on the floor, rolling around.
And then he discovers her enormous, tummy-control underwear.
It's comfortable. It's practical. And it's a total bedroom buzzkill.
But forget about the guys – I've always felt shapewear has killed my buzz. Which is why over the years, I've given up on it. Until now.
I've discovered a line of the most beautiful shapewear I've ever seen. It's the new range by Nancy Ganz called "Lingerie with Benefits" – because it not only does it job of smoothing your lines where you want it to, it will make you feel fantastic at the same time.
Because, quite simply put, it is sexy.
Now, let me make this clear: I love my curves. I embrace them. I'm not pretending to be something I'm not. But, I do like how shapewear just makes things smoother, so that clothes hang a bit better.
Which is why the first time I wore the new Nancy Ganz corset, it was under a fitted dress to work. Sure, I had a blazer on top. But I felt pretty cheeky on the inside.
And this is the honest truth: I was comfortable all day. It didn't pinch. It didn't dig in. I didn't have to adjust and fiddle with it all day.
It breathes. I could breathe. I'd never worn Nancy Ganz before, and just like that, I was a convert.
I even went straight to drinks after work, and you know what I loved the most? I could eat, drink, and my underwear still 'kept me together' in that fitted dress.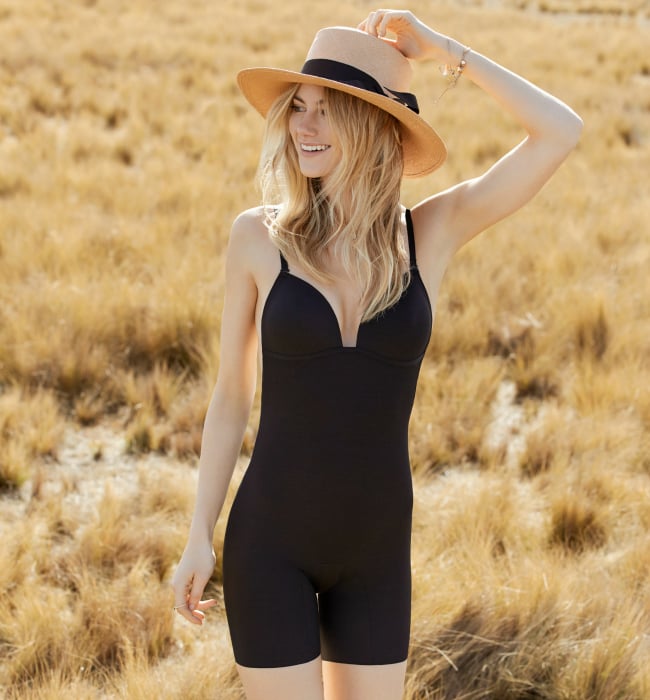 The next night, I was doing a vastly different activity. I joined 60,000 people at the SCG to watch the Sydney Swans play football. It was about twelve degrees. I was in jeans and trainers. No make-up. Drinking a beer. Wearing a red-and-white striped scarf like I'm Wally in Where's Wally.
But let me assure you it was a different story underneath.
I'm a DD cup, and yet I was wearing a strapless bra that worked. How do I put this? It felt...so. good. It gave me a great shape - something I'd never experienced in a strapless bra previously.
And that's why, as I watched the game in seven layers of clothing, including a cable knit jumper, it made me smile a little to myself whenever I thought of the little private party I was having under it all.
In fact, I loved the feeling of that strapless bra so much that I had to try it out on my very own 'Daniel Cleaver' the next night.
But sorry, that's all the detail you'll get from me on that. I'll only add that I finally understood the real meaning of 'Lingerie with Benefits'...
And just to keep this post strictly PG, here's a very sensible photo of me with my surprisingly sexy Nancy Ganz shapewear: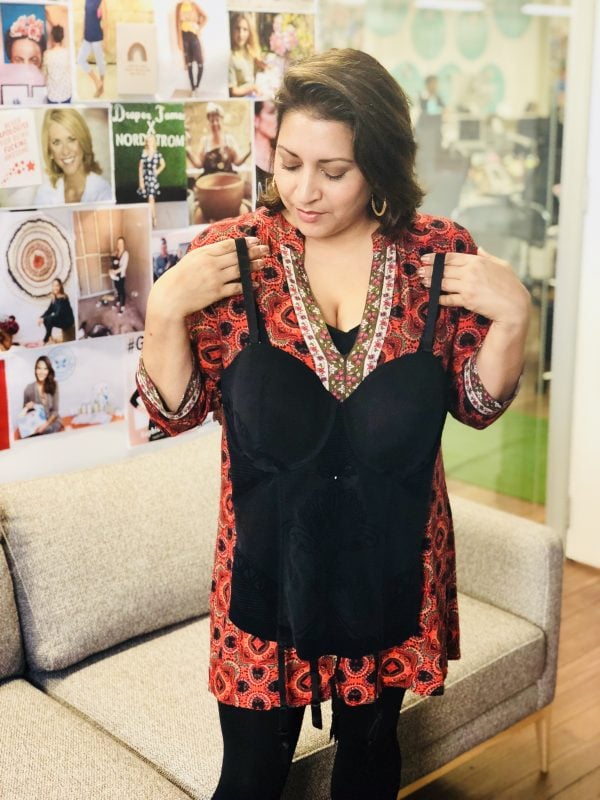 Never forget, it's what's on the inside that counts. *winks*
Nancy Ganz's new "Lingerie in Benefits" Enchanté collection is available at selected David Jones and Myer stores, and online at nancyganz.com.au.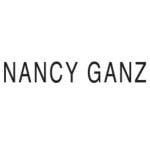 Nancy Ganz have revolutionised Shapewear, blurring the lines between Shapewear and Lingerie becoming part of a woman's every day wardrobe. Nancy Ganz is daring, beautiful and modern, offering shaping solutions that make you look and feel confident.
Nancy Ganz is designed in Australia using the latest fabric technologies each piece made to smooth and sculpt your body. Celebrating all shapes and sizes with solutions from G-strings, briefs and high-waisted designs to shaper shorts, bodysuits and slips all optimised to smooth and streamline the hips, tummy, thighs and all-over.
Available at selected Myer and David Jones and online at nancyganz.com.au.