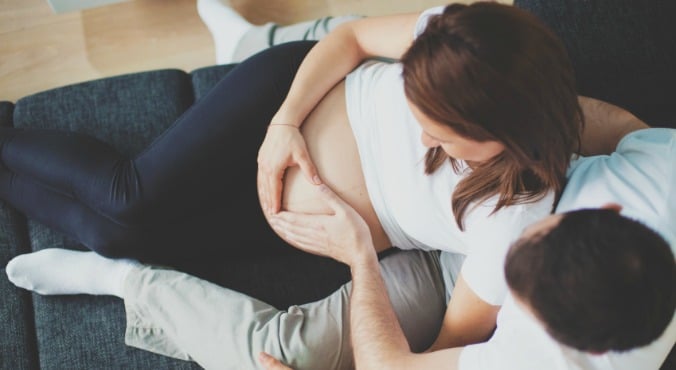 Image: iStock.
Pregnancy brings lots of hope and happiness to a couple; however it's sometimes a cause of worry with some vital factors to consider. Pregnant women might have some confusion and doubts about safe sexual practices during their pregnancy. This article can shed some light on factors that pregnant women must consider about whether or not to have sex during pregnancy.
Sex during pregnancy: is it safe?
The embryo is very well protected by an amniotic sac and uterus muscles. The baby is defended against any possible infections by a thick mucus plug that fuses the cervix closed. The NCBI journal lists sex during pregnancy as safe in most cases.
Orgasms, although known to bring mild contractions to the uterus, in no way harm the baby in low risk pregnancies. So it's safe to have sex while pregnant. (Five things no one every tells you about pregnancy with Jamila Rizvi. Post continues after video.)
Safe sexual practices during pregnancy.
A pregnant woman can follow these added tips to keep her and her baby safe while having sex during her pregnancy.
Pregnant women should use condoms to prevent STI's that can harm the vulnerable upper genital tract. A severe infection can occur several times in the first three months and this can threaten the well-being of the baby.
Any sexual position is safe during pregnancy as long as the woman is comfortable. As gestation advances, certain positions, like the missionary position, aren't possible. In such cases they can opt for a side lying position or get creative to find a more comfortable position.  (Post continues after gallery.)