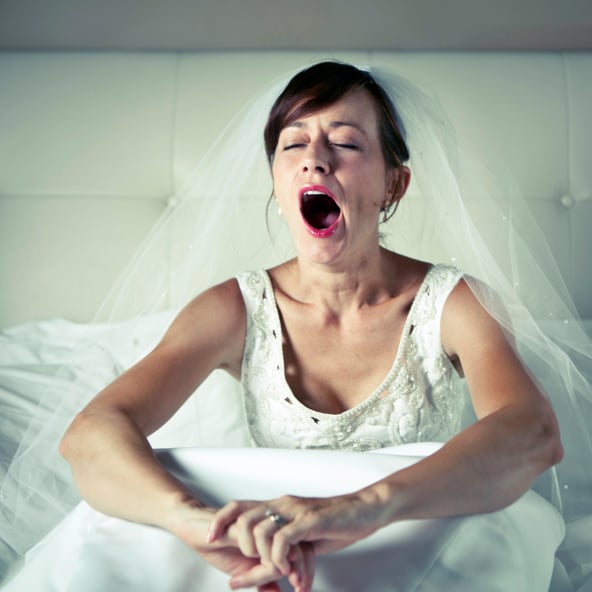 Wedding night sex is hard work.
It's probably the most unsexy, least exciting sex that a person can have. You're tired, maybe drunk, maybe very drunk and that dress you're wearing takes a mighty long time to extract yourself from.
The sex comes after a long day; a long day, which has been in the works for what might have been a long year. Or maybe even two long years.
You've been awake since 6am. You had your first champagne before 8am. You've been through hair, make up and posed for 2963 photos. You suddenly feel for those girls on America's Next Top Model because you now understand the pain of chaffed mouth corners which result from too much smiling.
You've danced the nut-bush, the Macarena and the stupid YMCA. You've had awkward conversations with more long lost relatives than you can count and certainly more than whose names you were able to remember. You've sat down for a total of three minutes and 7 seconds AND you've had to enlist the help of a bridesmaid to go to the toilet more than once.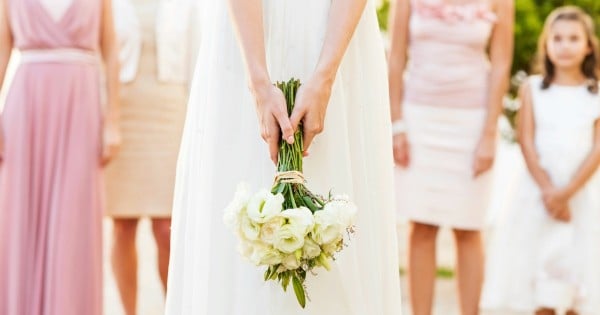 The emotional – and financial – roller coaster has pulled into stop. Finally. And now? Just when you want to pass out with hotel room service and a repeat of Gossip girl, you're expected to get your booty bonking.
What. Ever.
Recent reports suggest that less than half (and possibly only one quarter) of all newly married couples actually have sex on their wedding night. And when you consider the aforementioned list of stresses, it's easy to understand why.
Jezebel recently reported:
A few years ago, the Daily Telegraph covered a survey by Bride to Be magazine, which found that 90% of couples expect to do the deed, but only a quarter see their dreams realized. The Daily Mail insists that over half of couples (from a survey double the size of the previous) don't make it official by ancient religious standards on the wedding night.

The biggest reason? Drunk dick. Second biggest reason? Too tired. Last year, a financial advice website asked newlyweds why they bypass the action (in this survey, fewer than 48% got around to sex). All had been married within the previous three years. Their reasons:

Groom too drunk (24%)

Bride too tired (16%)

Bride too drunk (13%)

Had to watch kids (11%)

Had fight before reception ended (9%)

Needed to leave for honeymoon (9%)

Pulled an all-nighter partying (7%)

Groom too tired (4%)

Neither felt like it (4%)
Now I understand that you're tired. Or drunk. Or busy. Or fighting. Or not in the mood. I really do.
Brides-to-be, you might not want to hear this, but can I just say that:
Wedding night sex is one of the most important things about your wedding.
And yes. It is compulsory. Or at least, strongly encouraged.
It's not all about the dress, shoes, invite list, flowers and the speeches. Sure, all that stuff is important but it's certainly not as important as sex.
When it comes to wedding night sex…  You should damn well do it. For so many, there's no rush to have sex on their wedding night. Way back when it was a big deal it was mostly for religious reasons, because you'd never DONE it before or to simply get the family booming.
But I disagree. The tradition still matters.
My husband and I have been married for a few years and we've had a couple of kids – many of our friends are the same. There are days, weeks and months where we've all joked about going without sex. Hell, we're tired. Life – regardless of kids – is busy. There are new jobs, family crises, needy friends, running injuries, weight gain, weight loss, sick pets. The list is endless.
The EXCUSES are endless. If you want to find one, you will. But don't kick off your search on the one and only night that celebrates endless, all-consuming, all-giving love.
Get down and dirty, newlyweds. No more excuses. Push through the tiredness! Book a later honeymoon! Get off the dance floor!
L. O. V. E. Your love for each other.
Dig deep. Set the tone for the future. Make like Nike sports shoes and just do it.
So…. Did you?
Catriona Thomson is the pseudonym for a journalist/writer known to Mamamia.