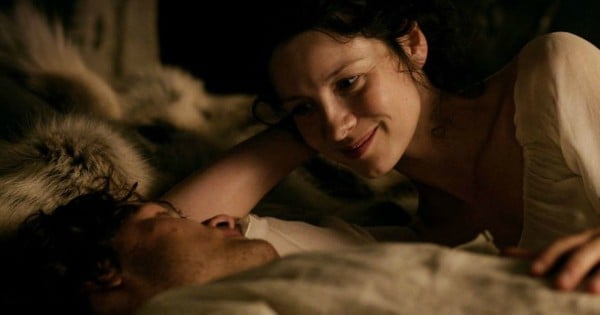 Look I'm not going to beat around the bush, although you'd be forgiven if you did, if you know what I mean.
An hour of Outlander (especially the hour of episode seven) could do a lot for your marriage.
If you're not familiar Outlander, it's a Scottish telly show based on the Outlander novels by Diana Gabaldon. They feature a WWII nurse, Claire Randall, who is mysteriously transported back in time to the time of the Jacobite uprising in Scotland.
Laura walks Rosie Waterland through Outlander's epic sex scenes on the latest episode of TV podcast, The Binge. (Post continues after audio.):
Claire is married in her time, 1948. But stuck in 18th century Scotland, Claire is forced by circumstance to marry the dashing warrior James Fraser.
Without giving too much away, I want to talk to you about their wedding night – yep, that's Episode Seven. (I strongly recommend episode ten also.)
We interviewed Sam Heughan from the show – hear our 10 quick questions below. (Post continues after video.)
Claire, having been married during WWII is a sexually-experienced woman. (The very first episode of Outlander features Claire and her modern day husband together in what has to be one of sexiest depictions of cunnilingus I have ever seen.)
In the hours before Claire and Jamie's wedding, Jamie confesses that he is a virgin.