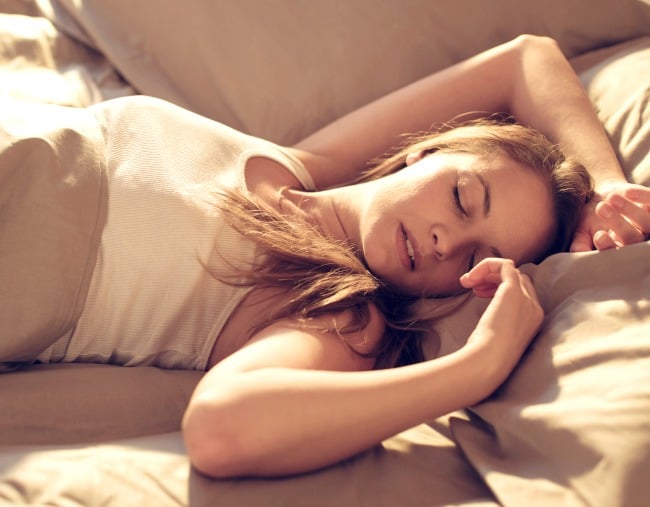 We don't talk about women's sex dreams nearly enough.
Much of the information on the internet is like something out of Jane Austin or Pride and Prejudice. Dreams about romance, and marriage proposals and knights in shining armor, with a little kink thrown in.
But what about the feeling of waking up mid-orgasm and not knowing where the hell that came from? Women have "wet dreams" too. We dream about sexual acts, fantasies, masturbation, penetration (not sounding so romantic anymore, is it?). Sex dreams are pure, natural arousal and here's what you need to know about them.
First off, some background.
Sex dreams and "sleep-gasms" are normal. A 2007 study of more than 3,500 participants found around four percent of dreams, in both men and women, result in orgasm. Dreams of sexual activity, not necessarily ending in orgasm, was reported in eight per cent of dreams. The most common form of sexual activity in dreams was intercourse. Kissing, fantasy and masturbation were close behind.
Interestingly (but not surprisingly) women's sex dreams are more likely to involve the pleasure of their sexual partner, while men's sex dreams are more 'selfish'. The study also found 20 per cent of women's sex dreams involved current or past lovers, compared to 14 per cent of men's sex dreams.
Why do we have them?
When we enter the rapid eye movement (REM) sleep cycle, the central nervous system is engaged and breathing and blood flow increase. This includes blood flow to the genitals. These psychological changes—relaxation, heavy breathing and increased blood flow to the genitals—closely mirror that of being turned on while awake. As dream researcher and a visiting scholar at the Graduate Theological Union in California,Kelly Bulkeley told Women's Health, "It's not surprising that these physiological changes often express themselves as an erotic dream."
A woman's menstrual cycle also plays a part. Libido, naturally, increases during ovulation. Sex dreams are likely to follow suit.
Team Mamamia anonymously confess to the last sex dream they had, and the person they had it with: