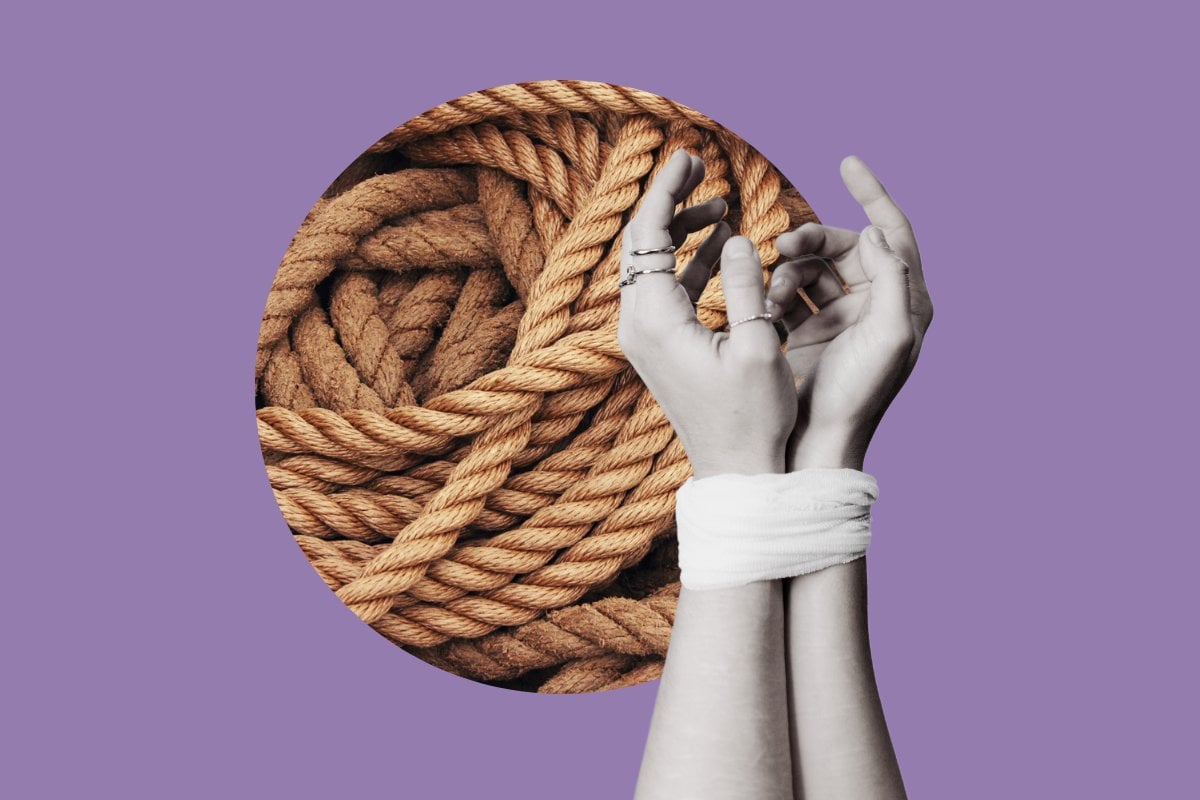 "Bring something sexy," the text message read. 
My mind suddenly spiralled, full of naughty thoughts and fantasies.
I'd been vibrating at the highest sexual frequency since I'd met Dan at a sex club two nights before. We'd started chatting at the bar, his hands exploring, before he took me on a couch and up against the glass window. 
Back at his, we hadn't stopped, going again and again until I was sore.
Since then, I hadn't been able to stop thinking about my wild Saturday night – my first time at that kind of kink party. 
By 10am on Monday, I'd already made myself come three times from the thoughts alone.
Watch: How are women having sex? The juiciest results from the Mamamia Sex Survey. Post continues after video.
"Lingerie or...?" I messaged back, my mind reeling. 
"Yeah, surprise me," he replied. "I want to explore your sexual fantasies like you've never done before." 
I had to pop out to the hardware store that evening, before we'd arranged to meet back at his at 9pm. I was shopping for sandpaper but somehow found myself in a completely different aisle.
Browsing their wide selection of ropes. 
I picked up a white nylon, running my fingertips down its tight fibres, feeling the rough surface on my soft skin. 
My mind lit up as I smiled to myself, carrying it towards the counter. 
Within an hour I was on his doorstep, a short black dress covering up the black lace lingerie underneath. 
A mesh bra, g-string, suspender belt, thigh-high stockings and patent black heels. But it wasn't going to be the only surprise. 
"I think I'm a little overdressed," I smiled, glancing down my body. 
With one step he had me up against the lounge room wall, his mouth making its way down my neck as his steady hands removed my dress. Letting it fall to the floor, he paused, taking everything in. 
The air burned with sexual tension.
Turning my body around, he held me against the bricks as he undid his own belt. Then, with expert fingers, he moved my panties to the side, before pushing himself in.