Okay, we'll admit it. There was more to the Seven Year Switch than we thought.
The idea of a show in which couples swap partners in a desperate, last-ditch attempt to save their relationships frankly seemed like cheap, ratings-bating crap. But as we got sucked into the madness and machinations of these rocky relationships, we actually learned some things. Not least of which is how deftly some people can manipulate others and how easy it is to overlook the signs of emotional abuse.
Read what Seven Year Switch taught Jo Abi about her marriage here.
Clearly, the public found it as fascinating as we did. SYS has not only been a hugely popular water-cooler hit for Channel Seven, but applications for season two are through the roof.
And season one ain't even over yet. Tonight's reunion episode will bring all the couples together for the first time since the show ended, with promise of revelations, confrontations and plenty of tears.
Here's what we can expect:
Babies
The rumour mill has been spinning hard and fast on this topic ever since the infamous pier scene in episode three. That was the first time viewers (and yes, us) noticed that Cassie seemed to be sporting a baby bump.
The extra cast member then made another, more prominent appearance later in the season, lending further weight to the speculation.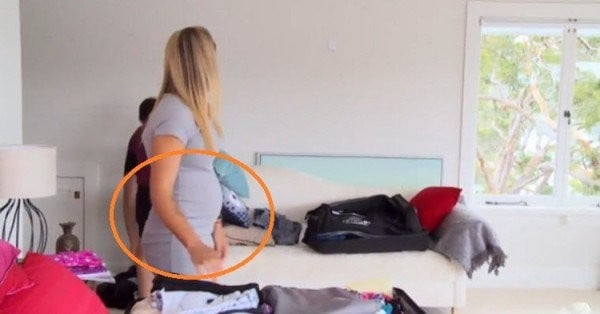 via Channel 7.
Still, the promo indicates that more than one couple will announce that they are expecting. And it seems, as predicted here, that couple is Jackie and Tim.
The so-dubbed "workaholic" and "larrikin" have told New Idea that they fell pregnant within a week of finishing filming.
"It's because of the show we sorted things out and are now having a baby," said Jackie. "It's just incredible!"
Their little one is reportedly due to make his/her way into the world in August.
Here's the exciting moment they decided to conceive.

Wedding bells
Could this be another story arc in the tumultuous tale of Jackie and Tim? Woman's Day reportedly spotted a previous version of the above promo that included the 28-year-old dropping a knee at the beach and presenting Jackie with a ring box.
The video was apparently taken down not long after being posted.
via Channel 7.
It's also expected we'll hear confirmation that Brad and Tallena have recently tied the knot.
As previously reported, the series' most controversial couple are believed to have said "I do" in front of 70 close family and friends.
Brad and Tim face off
Evan more than news of babies and betrothals, we're anxious to see the show's fellas duke it out over Tim's handsy treatment of Tallena.
"You lied to me, straight to my face," Brad tells Tim in the promo. "[You] demoralised yourself, your family and your partner."
via Channel Seven.
Not only had Tim shared a pantsless spa with Tallena (prompting Brad to break up with her via a heated letter), he also received a sensual massage from her while wearing nothing but undies.
Let's be honest, we're all looking forward to seeing these blokes squirm.
Tears
Well, it'd hardly be an ep of SYS unless someone had a little sob. But the promo promises that the contestants won't be the only ones with salty cheeks tonight. Apparently the whole country will be in tears after one couple's emotional revelation.
What that is remains to be seen, but the clip seems to indicate that Michelle might be the source of our misery.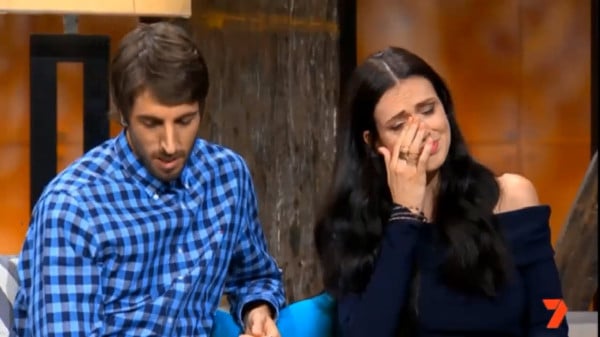 via Channel Seven.
Stay tuned for a recap.
The final chapter in the SYS saga airs at 8:50 (AEST) Monday night on Channel 7.