Seven Year Switch has divided the Australian public from the moment it went to air on our televisions, with many viewers convinced that it's not the way to go when it comes to repairing a broken relationship.
Yet on last night's episode came something unexpected, a moment of real and raw friendship. While Ryan and Michelle were out having dinner during their time in Tasmania's Cradle Mountain, Michelle asked Ryan where he thinks he and Cassie went wrong with their relationship.
Ryan then opened up about the stillbirth of his and Cassie's son. "Cass and I lost my first born son three years ago. He was stillborn. The majority of our problems started then," Ryan began.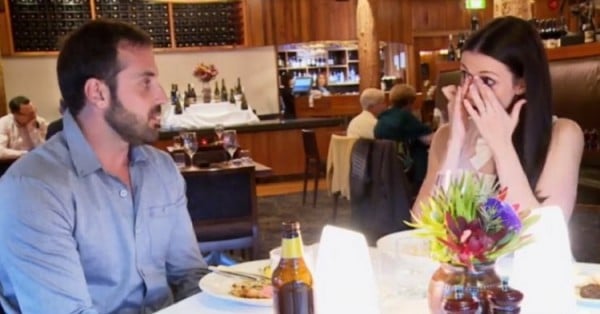 Image via Channel Seven. 
In that moment, taken over by emotion, Michelle began to cry. "I'm so sorry, that breaks my heart. I don't know why I'm crying. You're so brave," Michelle said through tears.
"We're very open in how we talk about it," Ryan continued. "You're so strong," Michelle replied.
"Well I haven't been, I haven't been. I really dropped the ball on my family. You know, I really did. What kind of man am I? In that process I've forgotten myself and I've forgotten Cass. I've forgotten her, she's just been pushed out of the picture completely. So the wheels have completely really fallen off for us," Ryan said.