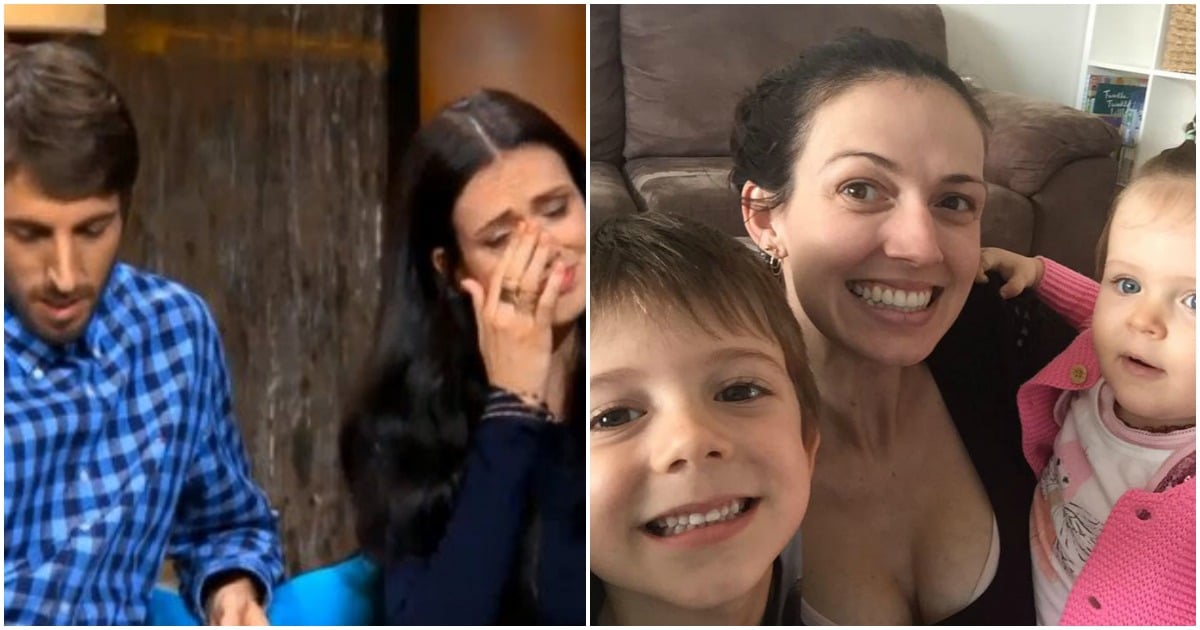 When I was a little girl, I use to think about what my life might look like when I was older.
I would be happily married to my Prince Charming by the time I was 21, (because that seemed so old to me then). He would be tall, dark and very handsome. I would have two or three perfect children and live in something that closely resembled a castle. I would spend my days riding horses, waiting after my husband and children happily and being the world's most perfect, picturesque mother.
Now, fast forward 20 or so years and here I am. A newly single mother of two amazing children, no handsome Prince Charming to be seen anywhere and a house that while nice, is most certainly not a castle. I don't spend my days horse riding or waiting after my husband… some days I don't even brush my hair! My days are filled with snotty noses, poo nappies and farts that are apparently, the most hilarious things in the world.
Watch a snippet of the Seven Year Switch season below. Post continues after video…
Yet what is this feeling that I am feeling ? The 10-year-old me would be screaming right now if she saw what her future had in store for her. But why is the 31-year-old me not? Because for the first time in my adult life, I finally feel alive! I feel in control of my life, and most importantly my own happiness. I am happy with the person I am. I am happy with the decisions that were hard and some weirdly easy, that I made to be who I am today.
I am no longer a woman that doesn't know who she is. I no longer feel weak. I no longer feel scared about being alone, I embrace the quiet nights. I am totally in control of my finances, what I eat and who I see.  I'm on a mission and I won't stop till I get to where I want to be, wherever that is. I am finally studying to better mine and my children's future. I'm showing them how strong of a woman I can be and that if you put your mind to something, you can achieve it, no matter how hard it seems at the time.
Don't get me wrong though. Some days are hard. My life isn't perfect and I'm learning to be a single mum as I go. It's hard. I take my hat off to you all. I'm still fighting with my old friend Post Natal Depression. I don't feel like I have won the war, but I'm still putting up a bloody good fight. My tablets and a new outlook on life seem to be helping me out, but it's still hard. Small steps.
One thing that does help is talking about it. And I have been so humbled and surprised about how wonderfully honest people can be. Since my last article I have been approached by so many woman who either have been in my shoes, or are fighting right along side with me. You are all so amazing and I thank you.
If you haven't read Michelle's viral post about PND, you can read it here.
Being honest instead of ashamed and asking for help as well as understanding the signs, is the first step to feeling more like yourself. If I helped just one woman out there to seek help and not be afraid then I'm so happy.
I do wonder what my life has in store for me in the future. Some things I still find a little scary. Whilst I am not ready to find anyone at this current time in my life, I'm just wanting to focus on my children and myself, I do find myself wondering. What man would want to be with me now ? I mean, let's be honest, I wasn't exactly a ray of sunshine on Seven Year Switch this last year. Though there are plenty of other sides to me that was never shown, and some pretty important things left out of my story, still this frightens me.
One of the things the producers tell you when you go on any television show, is 'don't read the comments'. 'Don't go on social media.' Well, I tried but I just couldn't look away. I was mortified to read the things I read about myself. The more bad I read, the more I wanted to read them, just to find that one person that would say something nice about me. That would get me. I cried a lot during the airing. And there was thousands of hateful comments. The thing was, I didn't like me on the show either. I can understand why people were saying what they were. Don't get me wrong, yes I said all of those things, and I'll be honest and say that at the time I bloody well meant them. I was upset, frustrated, feeling used, and fighting depression. It's unfortunate most of that wasn't shown.
Listen to Rosie Waterland and Laura Brodnik discuss Seven Year Switch on The Binge. Post continues...
Sometimes when I'm down, I find myself wondering if I now have too many negatives in my life. I don't believe that children are negatives in any form, but what if everyone else does? I am a single mother of two, I'm not rich and I have PND. This is something that worries me. It's scares me even, and I would be lying if I said I don't think about it. I don't want to be alone forever. I have my children, my family and friends, and really that's all I need in my life now, but not forever.
I want to someday find my Mr Right, just like everyone else does. What ever he looks like now. I want to get married and live happily ever after, maybe have another baby. I could even do the whole castle thing, just like the 10-year-old me use to dream about. Maybe minus the happily waiting on my husband thing... That was clearly crazy...
Love Michelle
xxxx
If you are struggling with PND, Mamamia urges you to visit this website.