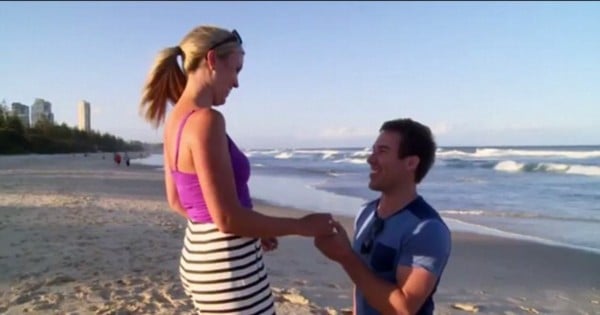 Tattoos for Seven Year Switch couple Jackie and Tim have always hit a sore spot.
It was the straw that bent but did not break the camel's back when Tim decided to get one with experimental partner Tallena.
So when Tim proposed to Jackie with a tattoo voucher instead of a ring we all waited for that camel to fall.
It didn't.
On Friday morning Jackie shared the real reason behind why she was given cardboard instead of carat on Instagram.
Jackie explained to her followers the ring wasn't a cheap-out but a sweet-in as she had never desired a sparkly rock on a shiny band.
"I had told Tim a long time ago that I didn't want an expensive engagement ring/wedding band," she said.
"I've been married before and I found it annoying to wear."
Jackie went on to list five further reasons why a material ring would be a no-go for a woman who is on-the-go.