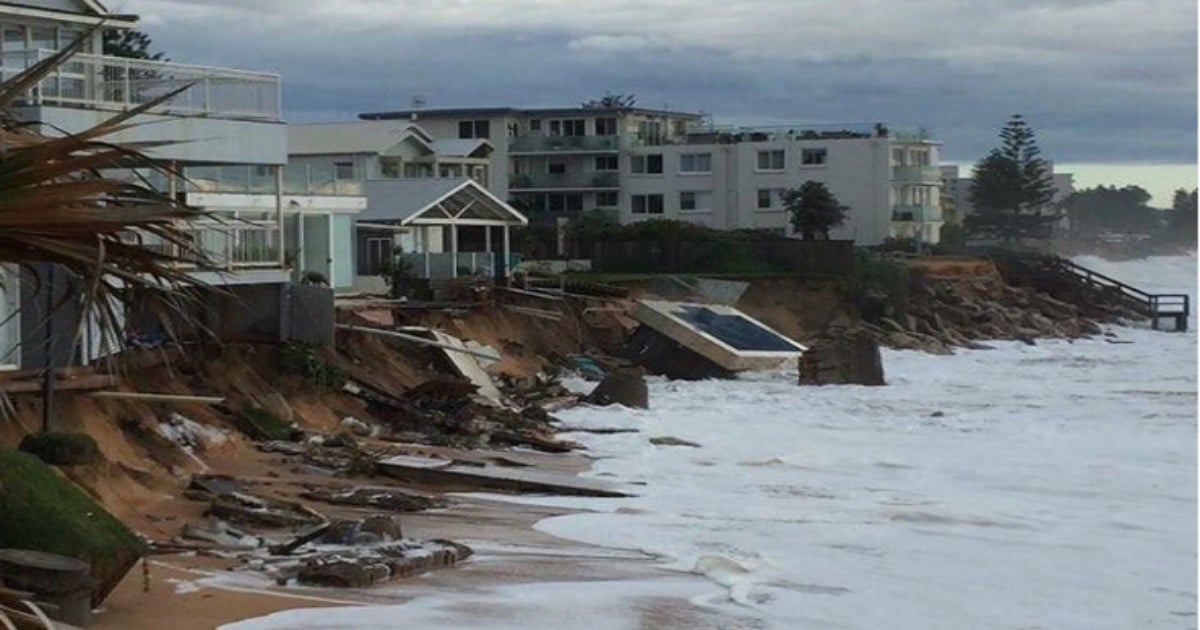 Homeowners on Sydney's northern beaches have faced an anxious wait for the third night in a row after another king tide hit coastal properties in the beachside suburb of Collaroy.
Residents now wait for experts to assess the new damage sustained overnight as waves again battered the mullion dollar homes.
Dr Mitchell Harley, a senior research associate at the University of New South Wales told Fairfax Media  late last night that seven homes were "gone" as some houses are starting to break up.
"It's eroded a further five or so metres and there's a very huge concern that these houses won't survive the night. They're very much teetering on the edge.
"There's large cracks being heard as the buildings are starting to break away.."
Dr Harley said the waves "are going higher than two-storey buildings".
Yesterday one resident Mandy Greville told The Daily Telegraph she watched as her backyard started falling into the ocean on Sunday.
"My deck slid off and three metres of grass came right after," she said.
"There was this loud crack and it all just gave way right in front of me. I don't know what to think, I've never seen weather like that before. But now that this has happened we need protection to stop the rest eroding away."
Another resident, Zaza Silk told The Project that her entire backyard, and swimming pool fell into the sea.
In a sad twist she told The Project that the devastation saw her lose more than just a home.
"My mother was in an urn in the garden along with my beautiful dog who passed away recently. I would go and talk to them regularly and they're gone."
She told Sunrise that the council needed to be held accountable.
"They've been talking about it and talking about it… to protect this area here you need to have a wall," Ms Silk said.
"We have to pay rates, really expensive rates to live in this part of Collaroy… they don't look after you at all.
"I can't believe it, it's your worst nightmare anybody could have… it's not fair, it's really not fair."
A video shared by Ms Silk of the water just before it eroded her property..
Insurance companies have already received more than 11,150 claims from across NSW and Queensland, with estimated insured losses of $38 million. But the homeowners at Collaroy may get nothing, as standard policies do not cover damage done by king tides, coastal erosion and storm surges even in the event of flooding.
The Insurance Council of Australia (ICA) told The Daily Mail only a small number of policies would cover actions of the sea under certain conditions.
"Home insurance policies typically do not cover damage caused by actions of the sea, such as coastal erosion, king tides or storm surges."
The Insurance Council of Australia declared an insurance catastrophe for New South Wales over the storms advising people who were affected by the to contact their insurance company as soon as possible.
Sadly many experts have said they are not surprised by the extent of the damage.
Professor Andrew Short said it was predictable that a major storm would pose a threat to waterfront houses at Collaroy and Narrabeen.
He told Fairfax Media for too long governments had put the problem in the "too hard or too expensive basket".
"Collaroy Beach is the most at-risk part of the NSW coast. It has been at risk for more than a 100 years and essentially nothing has been done for those 100 years," Professor Short, from the University of Sydney's School of Geosciences, said.
Collaroy: waves hit a unit block. Via travellerjon Instagram
Fairfax Media reports that in 2003, a proposal to construct a sea wall was put on hold after it encountered widespread community opposition due to fears the beach would be destroyed.
NSW Premier Mike Baird said engineers were investigating the damaged properties but it was not yet known if they could be rebuilt.