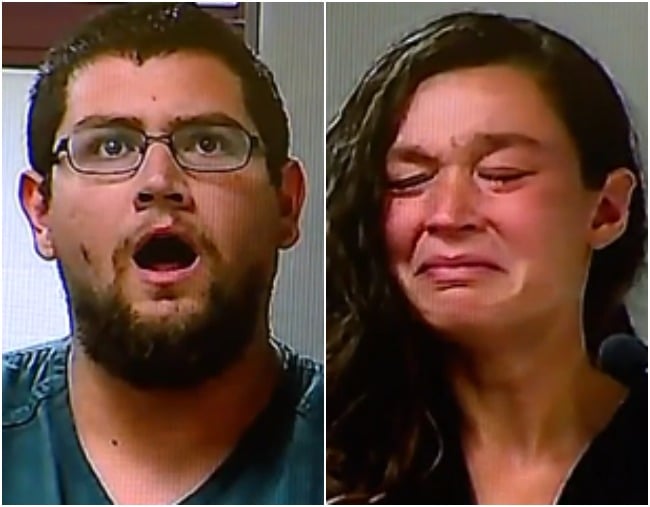 – With AAP
1. Parents charged with baby's murder after not getting her medical help due to religious beliefs.

A US couple has been charged with murder over the death of their 10-month-old daughter after refusing to seek medical help on religious grounds.
Seth Welch and Tatiana Fusari, from Michigan, were charged with murder on Monday after emergency services were called to their home last week to attend a baby girl who was not breathing, Wood-TV reports. She was pronounced dead at the scene.
On Friday an autopsy found Mary Welch had died from malnutrition and dehydration.
In a recorded interview from the Kent County Sheriff's obtained by Wood-TV, the parents are stated as telling police that they noticed their daughter was "skinny" for a month before her death but did not seek help for her.
"Tatiana Fusari admitted during the interview that they failed to reach out for medical help with their daughter for fear of having her children removed by Child Protective Services, lack of faith and trust in the medical services and religious reasons," the report states.
The 27-year-olds have two other children, aged two and four. Child protection authorities have also launched a child neglect case against the parents – who have also been charged with child abuse – in relation to the siblings.
According to Wood-TV, Welch has previously spoken of his distrust of medicine in various Facebook videos.
The father described doctors as part of a "medical cult" and said he did not believe in vaccines because "it's God who is sovereign over disease and… of course, ultimately deaths".
He also reportedly previously named doctors as "priesthoods of the medical cult" and said "God is sovereign over disease" on the topic of vaccines, in videos on Facebook.
2. Labor MP Emma Husar to quit politics amid bullying allegations.
Labor MP Emma Husar will quit politics at the next federal election, as an investigation into bullying and harassment claims made by her staff comes to a close.
Lawyer John Whelan's report is due to be handed to NSW Labor by Friday after he finished investigating complaints of Ms Husar's 22 former staff.
The allegations include that she bullied and sexually harassed her electorate office employees and diverted Labor funds into her personal bank account.
After announcing she would quit, Ms Husar accused some in the party of resenting her election because she had not come through the party machine.
"I had not done my Labor Party apprenticeship," she told the Nine Network.
"It was smashed into my face.
"A few nasty, faceless people can ruin someone's career, almost completely smash it to pieces."
She said she "threw up" over an allegation she exposed herself to Labor frontbencher Jason Clare while he played with his young child in his office.
Ms Husar and Mr Clare say the incident did not happen.
Labor frontbencher Anthony Albanese said Ms Husar had come to the decision to leave parliament herself.
"It's now time for the endless media speculation to be put to bed and for people to move on from this issue," Mr Albanese told the ABC.
He confirmed the investigation would be finished on Friday.
"It will bring down any recommendations. It should be allowed to now go through its course," the senior Labor MP said.
Ms Husar's western Sydney seat of Lindsay, which she holds with a margin of just 1.1 per cent, will be hotly contested between Labor and the Liberals at the election due by May 2019.
The government has called for the Labor report to be made public, after claims Mr Shorten's office knew about the investigation.
The Labor opposition leader maintains neither he nor his staff knew anything of the investigation until journalists contacted his office for comment.
3. Accused killer's chilling confession to police heard in court.
Alex Reuben McEwan told police a "demon inside his head" made him brutally bash a Korean woman, drag her up a set of concrete stairs and dump her in a Brisbane park to die, a court has heard.
He has pleaded not guilty to murdering Eunji Ban in the city's centre in the early hours of November 24, 2013, but admits to her manslaughter.
In a recording played to the Brisbane Supreme Court jury on Wednesday, McEwan can be heard telling arresting officers "on the night of the murder" he "just woke up randomly and did it."
"I was kind of waiting for it my whole life," McEwan can be heard telling the officers.
When asked what he was waiting for, he responds: "To kill someone."
His lawyer argues his schizophrenia left him unable to control himself when he killed Ms Ban.
Prosecutors allege the then 19-year-old punched Ms Ban repeatedly in the head, leaving her face so swollen her gender wasn't immediately obvious to police and paramedics attending the scene.
The court earlier heard forensic evidence she was dragged feet first up a flight of concrete stairs leading from Albert Street to Wickham Park and dumped next to a tree where she drowned in her own blood.
Photos were shown to the court of items on the ground at the Albert Street site, including a smartphone and smashed prescription glasses.
There was also a square of blue fabric which looked like the pocket of a business shirt.
A blue business shirt missing its pocket was found under Ms Ban's body.
Earlier the court was shown CCTV footage from the morning in question, showing a man running shirtless into an address at Spring Hill.
McEwan's colleagues have also testified that he showed up to work at a panelbeaters in Brisbane's west Monday, November 25, 2013 claiming bandages on his hand were for injuries he'd sustained during a fight at a skate park.
The trial is on Thursday expected to hear the police interview of McEwan following his arrest, along with more scientific and forensic evidence.
4. "Healer" who tried to cure women's cancer with face-burning treatment banned from practising.
A "self-proclaimed healer" who treated a Victorian woman's cancer using topical paste has been banned indefinitely from providing health services.
North Warrandyte man Dennis Wayne Jensen has been slapped with a prohibition order by the state's Health Complaints Commissioner over his use of a widely-discredited black salve treatment on an ovarian cancer patient.
Described as a "self-proclaimed healer," Mr Jensen also encouraged the patient to cease evidence-based cancer treatment in favour of black salve, which involves the use of a topical paste essentially burning and destroying skin.
Commissioner Kate Cusack said the man contravened the general code of conduct, which applies to health service providers not under national registration.
"I have serious concerns about the extent to which Mr Jensen is capable of delivering any general health services safely and ethically," the commissioner said in a statement on Wednesday.
"Dangerous and unethical practitioners who prey on the desperation and vulnerability of cancer-sufferers or others suffering terminal illness won't be tolerated."
Mr Jensen was previously subject to an interim prohibition order and the new ban will remain in place until the commissioner decides otherwise.
5. Now 100 per cent of NSW is in drought - and there's no end in sight.
Farmers are struggling as 100 per cent of NSW is impacted by drought but there's no relief in sight with drier than normal conditions forecast for the coming months.
The latest Department of Primary Industries data shows almost 22 per cent of NSW is suffering intense drought, 40 per cent is in drought and nearly 38 per cent is drought-affected.
The combined drought indicator - which takes in rainfall, soil water, plant growth and long-term climate data - suggests no part of NSW is recovering despite some recent rains.
Less than 10 millimetres was recorded in the western, northwest and central areas of NSW over the past month and drier-than-normal conditions are forecast for the next three months across the majority of the state.
NSW Primary Industries Minister Niall Blair accepts drier than normal conditions are expected for the rest of 2018 and admits it's "tough" for the state's farmers.
Cattle and sheep farmer Robert Lee says climate change is behind the drought crisis.
Mr Lee has been farming near Molong in the state's central west for 32 years.
He says over that time the climate has certainly changed with winter and spring rainfall becoming less reliable.
Mr Lee, a member of Farmers for Climate Action, wants the federal and state governments to accept that reality and come up with a plan to help farmers adjust to a warming environment.
The federal government has announced $12,000 grants for each affected farming family while the NSW government has doubled its funding commitments with a total of $1 billion now available.
Farmers are doing it tough so we're taking Mamamia Out Loud on the road with a series of live shows for drought relief. We'll be in Tamworth on Friday 17th August and Dubbo on the 20th of September and all profits raised go back into local communities, thanks to our partner charity, DroughtAngels. Grab your tickets and support our farmers here, and if you'd like to sponsor someone to attend email [email protected]