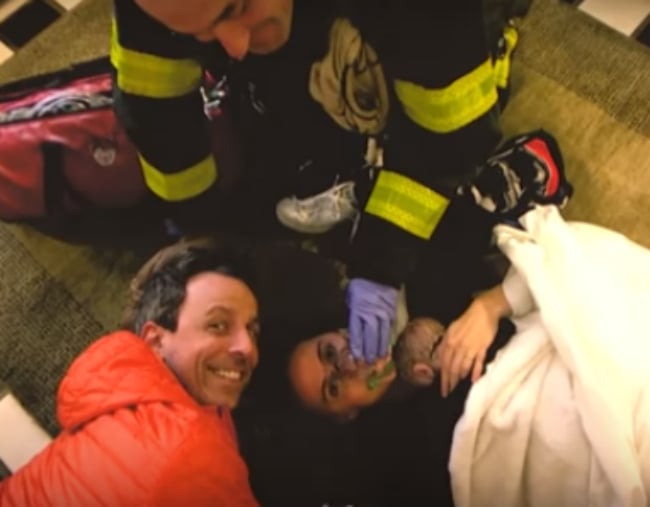 Seth Meyers has shared the "dramatic" tale of how his wife Alexi Ashe gave birth to their son, Axel Strahl, in their apartment building's lobby on Sunday.
The couple's second child's urgent arrival comes after the close call the family had delivering their eldest child, Ash, two years ago. Seth said their son was almost born in an Uber, but they made it to the hospital with about 20 minutes to spare.
This baby was almost born in an Uber too, he explained to audiences on Late Night With Seth Meyers on Monday night in the US.
Seth Meyers explains just how quickly his baby boy was born. Post continues. 
The talk show host said despite his wife having contractions in the morning, the couple had thought they had plenty of time to get the hospital. But at lunchtime, it became clear they needed to get to the hospital right away.
The couple, and their doula, made it as far as down the elevator of their New York City apartment and into the lobby when Alexi announced she couldn't go any further.
AFL player Chris Judd gives a dad's point of view on what happens during birth. Post continues after audio. 
"My wife just says, 'I can't get into the car, I'm going to have the baby right now, the baby is coming,'" Seth said.
The 44-year-old said he tried to convince his wife she could make it to the Uber they had ordered to take her to hospital… before the baby's head actually crowned and moments later was born.
"My wife is saying, 'The baby is coming. The baby is out.' At which point [the doula] looked and then looked at me and said, 'The baby is out.'
He joked: "I looked at my wife, and the only way I can describe the way my wife looked, was she looked like someone who was hiding a baby in a pair of sweatpants."
Seth said the birth had happened so quickly that his call to emergency services was more like an update just to let them know.
"I called 911 and over the course of a minute conversation, I said, 'We're about to have a baby—we're having a baby—we had a baby.' I went from someone calling in about an emergency, to just sharing good news with a stranger."
However, the fire department, New York Police Department and paramedics did arrive, with a firefighter being the one to cut the umbilical cord before an ambulance took Alexi and her son to hospital for checks and recovery. Thankfully there were no complications and Axel and Alexi are both healthy and doing well, Seth said.
Seth thanked everyone who helped out - including neighbours who brought down fresh towels - except for the Uber driver, who charged him a fee for the cancelled trip.