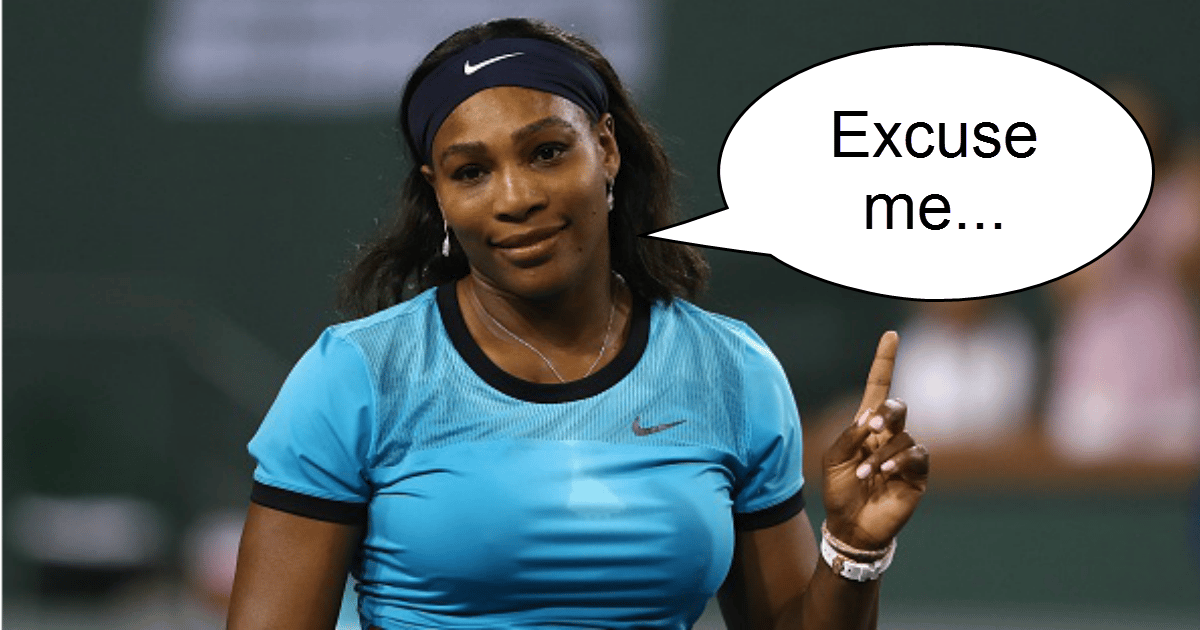 Serena Williams may have lost the Indian Wells final against Victoria Azarenka last night, but she certainly beat the tournament's organiser Raymond Moore in the battle of the sexes.
Moore was slammed after saying "lady players" should "thank God" for the male tennis super stars who he says carry the sport.
He began by sharing his belief that female players "ride on the coattails" of male tennis stars and went on to say that upcoming players such as Garbiñe Muguruza and Genie Bouchard are both "physically attractive and competitively attractive".
If that wasn't bad enough, Moore kindly shared that if he were a woman, he'd "go down every night on my knees and thank God that Roger Federer and Rafa Nadal were born".
The full transcript continues to make the rounds on social media, revealing what can only be described as a sickening insight into what the high-ranked Tennis executive truly believes.
But his words did not hang in the air for long before they were firmly plucked out, thrown up and served back.
In a lightening-fast return, Serena Williams took the opportunity during her own media session at the tournament to respond to Moore.
"Well I don't understand why I always have to answer questions about controversy like this," she said. "Obviously I don't think any woman should be down on their knees thanking anybody like that.
"I think Venus, myself, a number of players have been… if I could tell you every day how many people say they don't watch tennis unless they're watching myself or my sister, I couldn't even bring up that number. So I don't think that is a very accurate statement."
Slay, Serena, slay.
The tennis pro's comments were then escalated to new heights as she took the opportunity to balance her views with a consideration into how he intended his comments.
"There's only one way to interpret that. Get on your knees, which is offensive enough, and thank a man, which is not — we as women, have come a long way. We shouldn't have to drop to our knees at any point."
Williams was then asked whether or not she was surprised that sexism continued to be an issue in women's tennis in 2016.
"Yeah, I'm still surprised, especially with me and Venus and all the other women on the tour that's done well," she said.
"So I just feel like in order to make a comment you have to have history and you have to have facts and you have to know things. You have to know everything. I mean, you look at someone like Billie Jean King who opened so many doors for not only women's players but women athletes in general.
"So I feel like that is such a disservice to her and every female, not only a female athlete but every woman on this planet that has ever tried to stand up for what they believed in and being proud to be a woman."
Williams also backed her response with how last year's women's final at the US Open sold out before its male equivalent. A fact that in itself spawned a media event – perhaps only drawing further attention towards how far women's tennis and sport in general, is yet to come.
Moore's comments came during a media session before the BNP Paribas Open on Sunday, and were sparked after he was asked for his thoughts on the Women's Tennis Association.
He has since responded to the comments with an apology.
"At my morning breakfast with the media, I made comments about the WTA that were in extremely poor taste and erroneous," he said.
"I am truly sorry for those remarks, and apologize to all the players and WTA as a whole. We had a women's final today that reflects the strength of the players, especially Serena and Victoria, and the entire WTA. Again, I am truly sorry for my remarks."
The apology came swiftly and his words demonstrate his recognition of how profoundly offensive his remarks were but whether they came from his heart or the laptop of his PR team is something we'll never know.
Click below to revisit another brilliant moment when Williams slammed a reporter for asking her to smile…