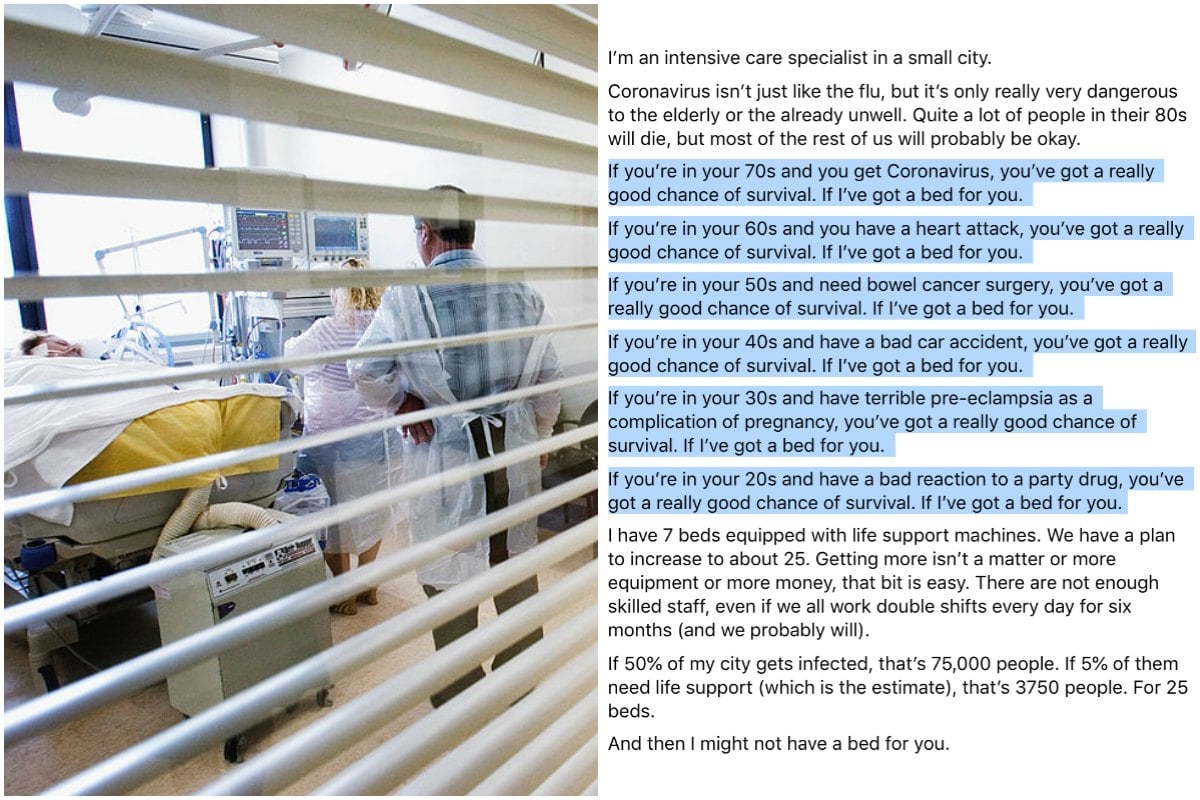 Adam Visser an intensive care specialist in the small Queensland city of Toowoomba.
He, like all of our country's health workers, are working around the clock keeping Australians and Australia safe from the rising spread of COVID-19.
Over the last few weeks, the Director of Critical Care has been left impressed and proud by his colleagues' preparations for coronavirus, should it infiltrate their community on a mass scale.
WATCH: Mamamia's The Quicky host Claire Murphy breaks down your most asked questions about COVID-19. Post continues below. 
They know it's coming.
They're preparing for it to be really bad.
"If it's really bad we will just cope. We can't prepare for the worst, because it will be overwhelming, and if it happens it will be terrifying. I've seen the plans," Visser wrote on Facebook on Friday.
What he's not impressed by is those in the community downplaying COVID-19 as "just the flu".
Read more: "Would love to make it to 21." The people we need to protect from the spread of COVID-19.
On Saturday, Visser posted an important reminder as to why even the healthiest among us will be affected if coronavirus cases start to spread at the rate it is in places like Italy and Iran.
Here is what he wrote in a post that's since been shared 74,000 times:
"Coronavirus isn't just like the flu, but it's only really very dangerous to the elderly or the already unwell. Quite a lot of people in their 80s will die, but most of the rest of us will probably be okay.