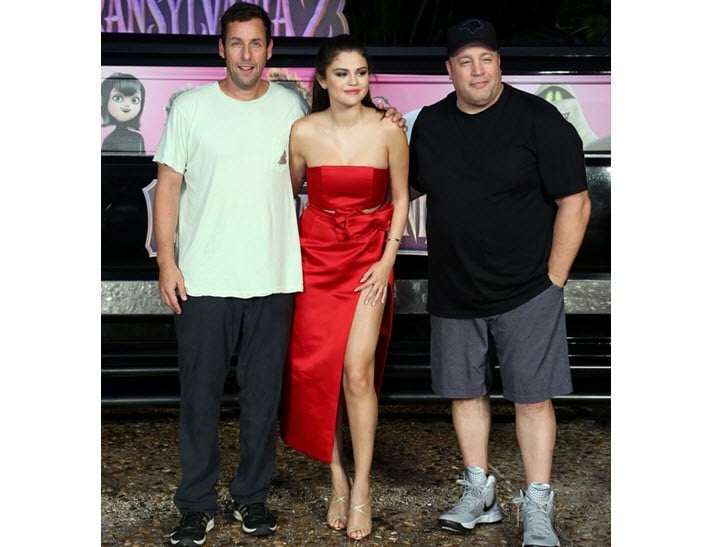 Tracksuits for all, I say.
Selena Gomez could wear a bin liner and look gorgeous. Kevin James and Adam Sandler? Not so much.
So why did the two of them dress like they were settling in for a weekend of eating fried chicken and watching sports on TV while Gomez, 22, was dressed to the nines on the red carpet?
Seriously, Sandler looked like he could easily have grease stains on his shirt from being too lazy to grab a paper towel, and his sneakers were of the type that your dad might wear to complete backyard chores.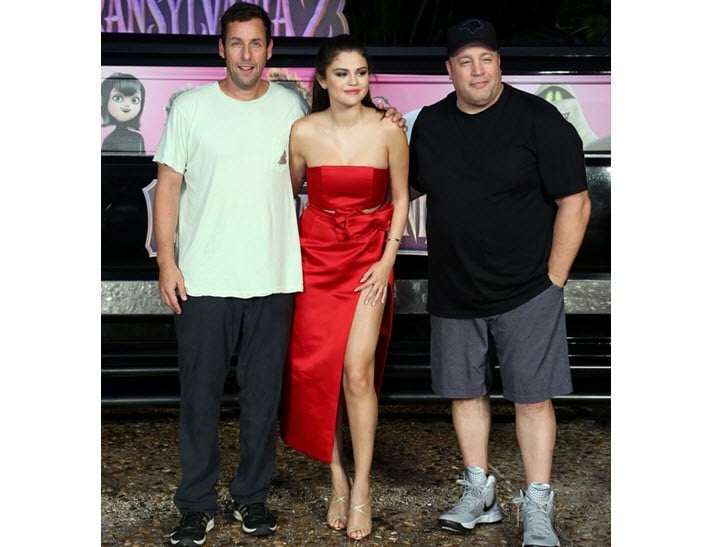 The three were on the red carpet at a photo-call for their film Hotel Transylvania 2 in Cancun, Mexico, where Gomez wore a two-piece red silk ensemble.
She was flanked by Sandler, 48, in trainers, tracksuit pants and a baggy white t-shirt, and James, 50, in a baseball cap, shorts and high-tops.
Gomez looked incongruous and uncomfortable in her fancy outfit next to the two dressed-down dudes.
But can you imagine if Gomez had opted to slouch down the red carpet in her trackies?
Oh, the crowing! The insults! The barbs and the slurs! They would be merciless.
She would have let herself go. She'd have a drug problem. She'd have a weight problem. She'd be unhinged. She'd still be pining over Bieber. He'd have made a lucky escape.
But these two middle-aged male movie stars? Wear whatever you want, guys. Be as paunchy as you like – we'll love you more for your dad-bod.
Give even less of a shit about the fans who turned out to see you – we'll still watch your terrible, terrible films.
More on Hollywood's inequalities? There's plenty.

Salma Hayek has some kick-arse ideas about tackling sexism in Hollywood.

And this is why Jennifer Garner should be Mayor of Hollywood.

Maggie Gyllenhaal was told she's "too old" to play lover of a 55-year-old man.

 

You can't wear flats on the red carpet at Cannes. But crop tops are fine.