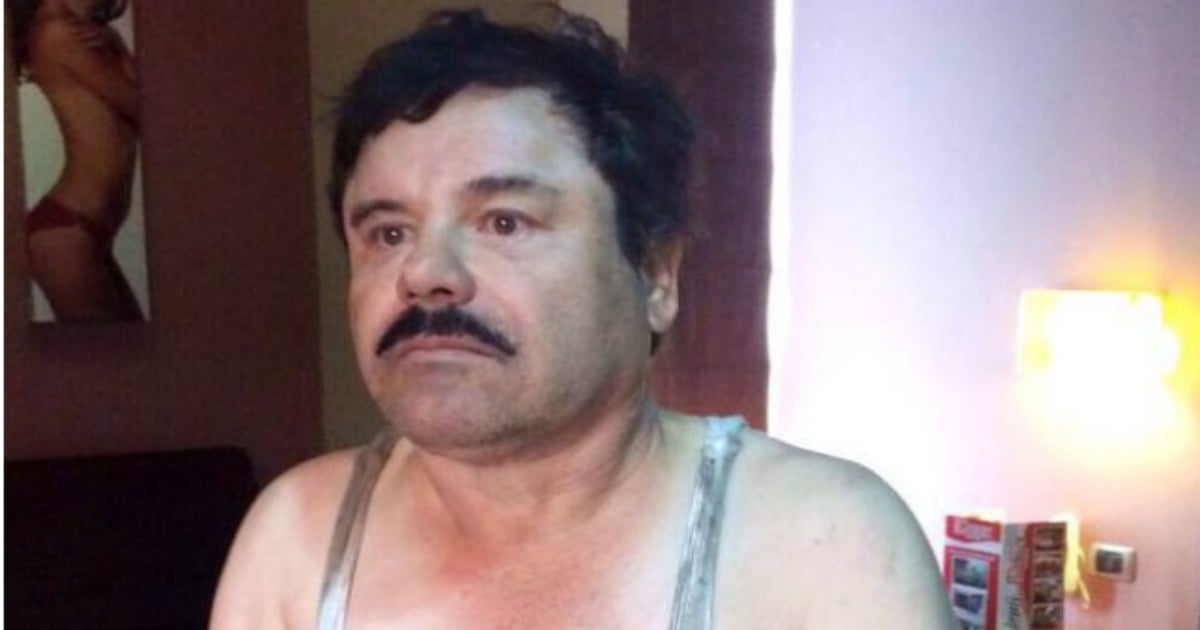 A Mexican drug lord wearing a dirty singlet got re-captured on the weekend.
Did you see it on the news? It's relevance to most of us was little more than a passing – oh good to get guys like him back in jail  – and a brief snigger at the state of his dirty singlet.
But the case has now become interesting with the news that a major Hollywood actor conducted a lengthy seven-hour secret interview with the mega-rich drug lord – and may have inadvertently led to his arrest.
In an extraordinary twist to the tale of Mexican drug lord Joaquin "El Chapo" Guzman it has been revealed that Hollywood actor Sean Penn interviewed the Mexican drug kingpin at a secret location soon after his jail break in October – and that this interview helped authorities recapture Guzman.
Penn's interview with Guzman, who has twice escaped from Mexican maximum security prisons, appeared on the weekend in Rolling Stone magazine.
The seven-hour interview with Guzmán was followed by extensive and phone and video contact between Penn and the druglord. The article is accompanied by a two-minute video interview of Guzmán in which the drug lord answers questions that Penn sent via an online messaging service.
Guzman's latest escape from the maximum security Altiplano jail in July was through a secret tunnel in his shower.
On Friday he was captured after a bloody shootout that left five suspects were killed and six others arrested.
The interview was arranged by a famous Mexican actress Kate del Castillo who had been in touch with Guzman about making a biopic of his life.
In the interview, Guzman defends his work at the head of the world's biggest drug trafficking organization, one blamed for thousands of killings. When asked if he is to blame for drug addiction he tells Penn "No, that is false, because the day I don't exist, it's not going to decrease in any way at all. Drug trafficking? That's false."
Guzman is the leader of the Sinaloa cartel. He was once described by the U.S. Treasury as "the most powerful drug trafficker in the world." The Sinaloa cartel allegedly uses elaborate tunnels for drug trafficking and has been estimated to be responsible for 25 percent of all illegal drugs that enter the U.S. through Mexico.
Guzman has also long been ranked among the richest men in the world by Forbes with drug enforcement experts conservatively estimating the cartel's revenues at more than $3 billion annually.
Of his first impressions of Guzman, Penn says in his Rolling Stone piece "My mind is an instant flip book to the hundreds of pictures and news reports I had scoured. There is no doubt this is the real deal. He's wearing a casual patterned silk shirt, pressed black jeans, and he appears remarkably well-groomed and healthy for a man on the run."
When the actor asked Guzman at the time about life after escaping and being free, Guzman responded: "Well, as for being free – happy, because freedom is really nice, and pressure, well, for me it's normal, because I've had to be careful for a few years now in certain cities, and, no, I don't feel anything that hurts my health or my mind. I feel good."
In an even stranger twist, to an already strange story Rolling Stone has revealed that as a part of an agreement the magazine submitted the final copy of the article to Guzman – for final approval.
Penn writes that Guzman's people took extraordinary measures protect Guzman, including flying Penn and his team aboard a plane that had a device that jams radar and ensuring they did not have their phones.
However his security lapsed once the interview was over with officials managing to track phones and electronic exchanges among people close to Guzman trying to arrange a biopic of his life.
On Friday Mexican Attorney General Arely Gomez said an important aspect of the druglord's recapture "was discovering Guzman's intention to have a biographic film made".
"He contacted actresses and producers, which was part of one line of investigation."
After years on the run the Sinaloa cartel leader may be extradited to the United States, where he faces drug trafficking charges – and actor Sean Penn too may face investigation with ABC News reporting that Penn and Kate del Castillo, the Mexican actress who Penn says helped arrange the meeting, are under investigation for their "interview" with Guzman.
But for now it seems the Hollywood actor is back in the spotlight for other reasons – surfacing on a red carpet last night with former wife, Madonna – the duo holding hands and appearing surprisingly close.