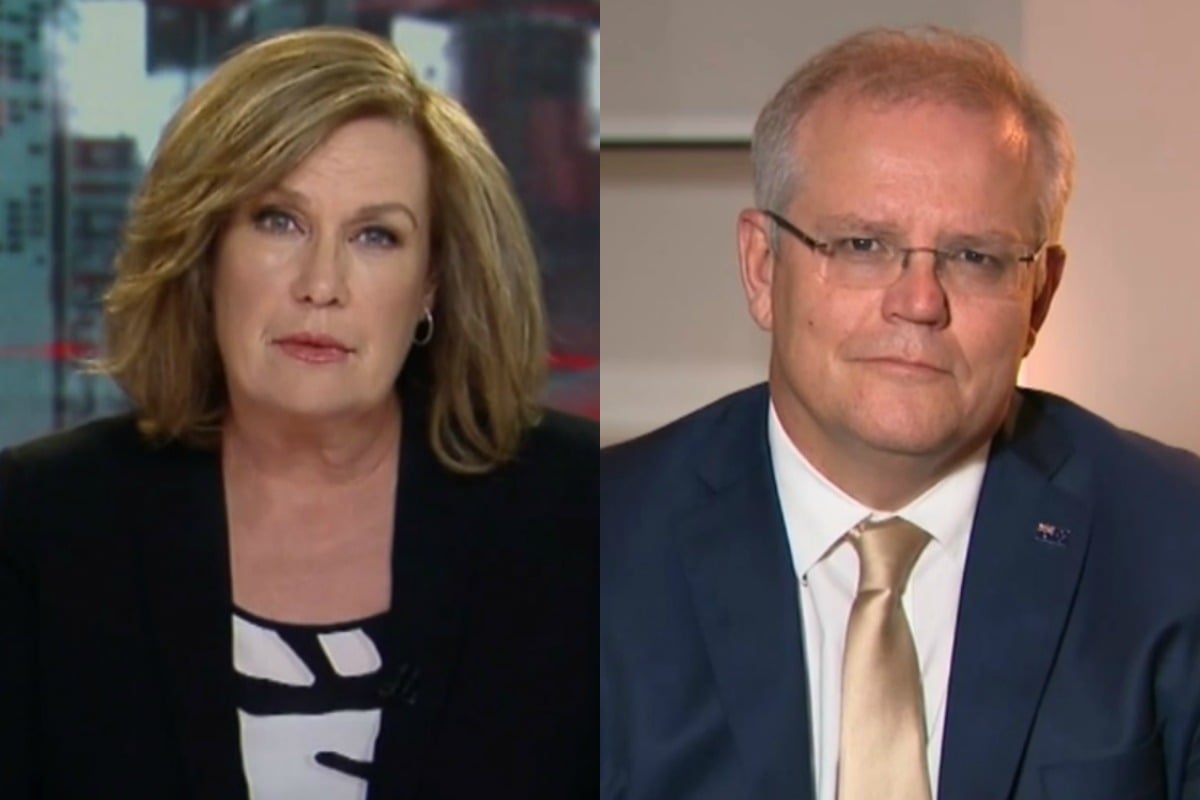 On Thursday night, Prime Minister Scott Morrison went live on A Current Affair, where he spoke about Australia's continued response to the coronavirus pandemic.
As of today, the Prime Minister announced new measures that would effectively give parents access to free child care, with the government committing hundreds of billions of dollars in stimulus packages and financial support to individuals and businesses.
So far, the virus has claimed 24 lives, with Australia reporting over 5000 confirmed cases.
Speaking to Tracy Grimshaw, Morrison addressed the expected timeline of the COVID-19 pandemic, the financial impact of the stimulus measures and what the 'peak' of the virus would look like in Australia.
Here are the key points from the interview.
'We are going to be in this new normal for the foreseeable future.'
When asked by Grimshaw whether it was plausible for Australia to tackle the virus in six months, Prime Minister Morrison said our "new normal" would continue for "at least six months, it could be longer".
"What I am trying to do, is make it very clear that those who think this can all be done in a couple of weeks, with the lockdown, as they call it," he said. "There is no quick fix."
He clarified the initial prescribed "six-month period" was based on early modelling and the government's economic packages have been put in place to ensure they will cover Australians for this period.
"We have to do things that we can keep doing, and when we are doing it, stay positive, stay connected, and we have to stay strong," he said.
"Our hope is over the next six months, we will be in a different position in terms of the way that the virus is moving through the community.
"I can't shield people from uncertainties when they are genuine. What we can do, is ensure we put in place the most sustainable set of restrictions, the most generous set of supports we can, that can help people get through day by day, we will get through this together."
Morrison defended the government's social restriction measures. 
A key point of the interview was when Grimshaw asked the Prime Minister whether he regrets not shutting our international borders earlier. While he posited that "about three quarters or two thirds" have been from 'imported transmissions', these have been from "Australians coming home".
"That's where we've had the biggest exposure, and we have further ramped up, week after week, the quarantine and other protections, self isolation, for people coming back to Australia," he said,
"Australians throughout the course of this were always going to make their way back. You can't close [the borders] to Australians."
He also defended his government's social restriction measures, reiterating the need to balance the health of public safety and economic viability.