A teacher and an eight-year-old male student have been shot dead and a second student critically wounded in a murder-suicide at a San Bernardino primary school.
A man named as Cedric Anderson, 53, opened fire with a pistol in a special education classroom at the Southern California primary school, fatally shooting the teacher, Karen Elaine Smith, and wounding the two students before killing himself.
Police said the boy, identified as Jonathan Martinez, had died of his injures in hospital, the LA Times reports. Another nine-year-old boy is in a stable condition.
The gunman was the husband of the teacher shot dead, police say, adding that the wounded children were standing behind her.
It is understood the couple had only been married a few months and were "estranged".
Police said the two children were believed to have been caught in the gunfire unintentionally as bystanders to Monday's violence, which unfolded several kilometres from the scene of a December 2015 shooting rampage that killed 14 people.
San Bernardino Police Chief Jarrod Burguan said the shooting at North Park Elementary School in San Bernardino, east of Los Angeles, was an apparent murder-suicide.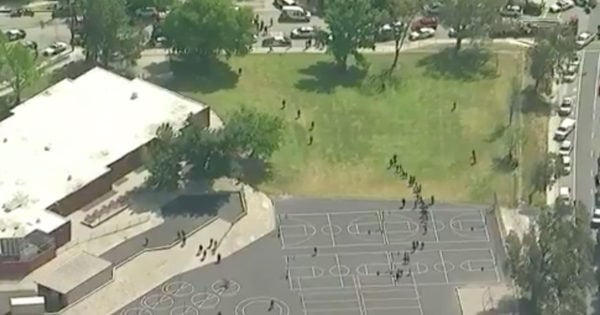 "The children we do not believe were targeted," police Captain Ron Maass told reporters.
The 600 other students at the school were bused to safety at California State University's San Bernardino campus, several kilometres away.