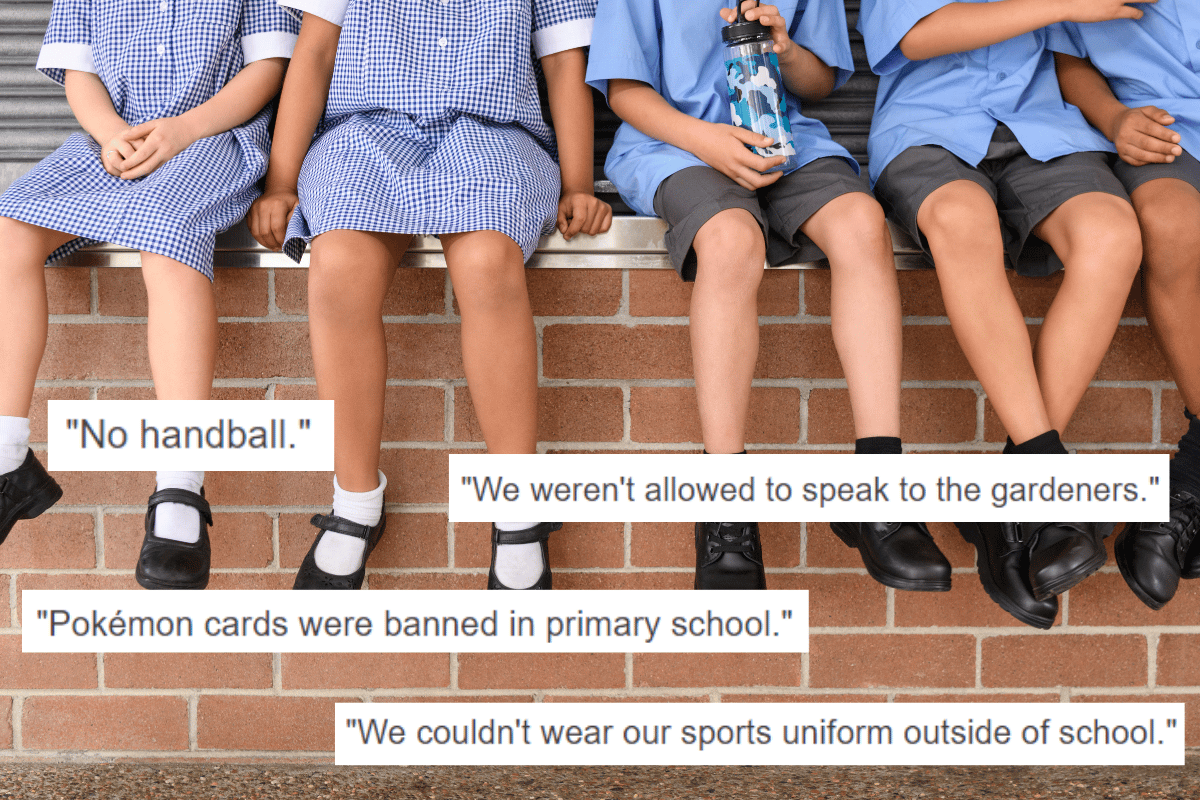 If there's one thing all schools have in common, it's bizarre school rules. 
Whether you went to a public, private, Catholic school, all-girls school or anything in between, there's a good chance you would have been forced to follow some truly questionable and quirky rules that made no sense at the time (or even now). 
Which is why it comes at absolutely no surprise, that a thread asking people to what "the dumbest rule your school enforced?" is trending on Reddit. 
From a ban on running to taking off the boy's bathroom doors, some of the responses were downright crazy. 
Watch: Horoscopes homeschooling their kids. Post continues below. 
Off the back of the thread, we decided to ask the Mamamia community to share the strangest rules they had to follow at school. And oh boy did the responses come flooding in. 
From no high-fiving to folded socks, here's all the weird school rules we haven't stopped thinking about since we left school.
No hugging or high-fiving.
"No hugging - had to maintain bible distance." - Lucy.
"No touching, hugging, hand shakes or high fives etc. I got an hour-long detention for hugging my friend who was crying."- Jess.
"In year nine we had a one metre rule from the boys - it was a boarding school, but the rule didn't exist in any other year groups or campuses." - Genevieve.
"It wasn't written anywhere but opposite genders had to stay 30cm away from each other at all times." - Pip.
What we couldn't wear.
"We could only wear religious jewellery like the cross and if it wasn't a religious symbol, we had to get permission from one of the reverends that we were allowed to wear it." - Emily.