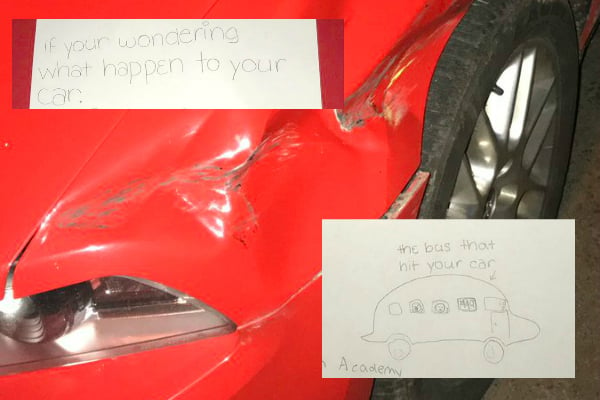 Andrew Sipowicz's red Ford Mustang was his dream car, so when he discovered it had been badly damaged in a hit-and-run he was gutted.
On Monday, a school bus in Buffalo, New York smashed into one side of the car and the driver drove away, leaving his front driver's side badly dented and scratched.
Upon discovering this, Andrew noticed a piece of paper under his windscreen wiper. It wasn't a note from the driver, but instead a very helpful child.
Written in neat, child-like handwriting it read: "If your wondering what happen to your car. Bus: 449 hit your car.
"It stops here everyday to drop me off at 5pm."
The note then gave more details about how the incident happened as well as a pretty damn good drawing of the bus in question, with a smiling driver and a couple of shocked children with their hands against the glass (or in the air… it's hard to tell the exact action in 2D).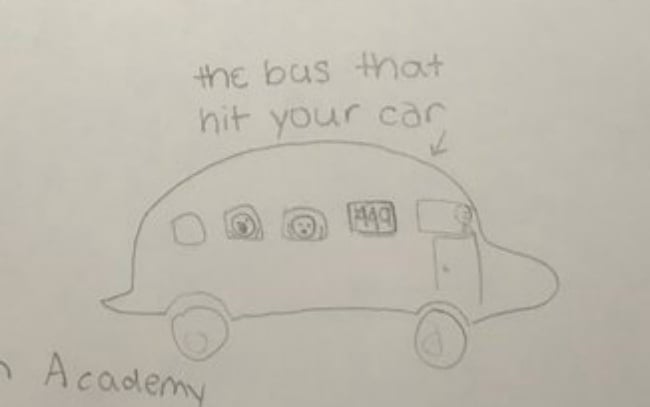 The child then identified herself as a sixth grader (FYI: kids in sixth grade are usually 11 or 12) at Houghton Academy.
Following his discovery, Andrew shared the note and a photo of the damage to Twitter, and it quickly went viral. It now has more than 1.2million likes.
Shoutout to the anonymous 6th grader for saving me a couple thousand (Bus not drawn to scale) pic.twitter.com/7aNK10xSwX

— Andrew Sipowicz (@Andrew_Sipowicz) November 20, 2018