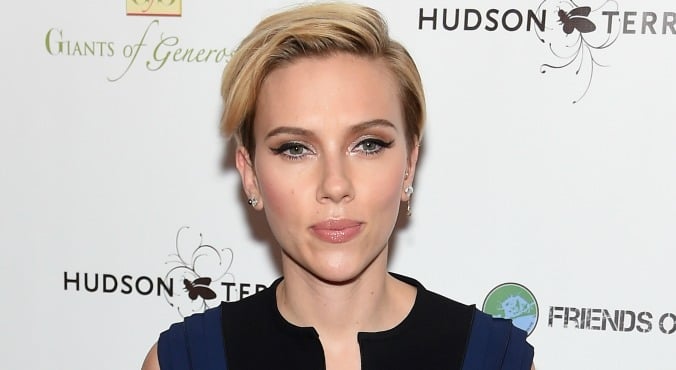 Image: Getty
Looks like Scarlett Johansson's long-haired days are well and truly a thing of the past.
Last year, the Lucy star's transformation from long hair to pixie cut attracted almost as many headlines as her secret wedding and the arrival of her first child, Rose. Now, just a few months later, she's changed things up again – this time with some help from a razor.
Cara Delevingne has shaved her head (Sort of).
Scarlett, 30, attended the G'Day USA gala over the weekend with a bit of an undercut-quiff happening (is that the official term for it? Well, it is now). Her hair was closely buzzed around the sides, while the top was teased up and swept back:
Here's a better look at Scarlett's hair from the side/back:
So. A lot to digest here. Let's talk.
First of all, does this style remind you of anyone? No? Well, here's a hint: she came in like a wreeeecking baaaallll.....
There's another reason this particular look might be familiar to you - if you live or work in the inner suburbs of your capital city, you've probably seen it on every Ned Kelly bearded, chambray shirt-wearing, cafe-hopping dude in the vicinity.
Julia Roberts' red hair is baaaaaack.
The undercut quiff is a massive trend right now, and we love seeing the women totally owning it.
So what's next for Scarlett? Where to from here? Our money's on a full buzz cut. In the meantime, check out the other celebrity styles we can't stop talking about:
The best celebrity hair transformations