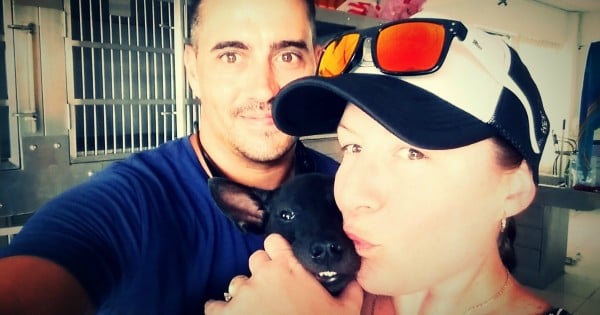 An Aussie couple desperately want to bring their puppy home but they need your help. In October last year, Nicole Marchment and Darren Budini were in Thailand for their dream wedding and honeymoon. Later while sightseeing and exploring the island of Koh Chang, they came across a little puppy who changed everything.
The homeless dogs in the area where cared for by a local woman named Duen. Nicole and Darren bought some dog food for her companions and one day, accompanied her to meet them. A little black puppy with a high temperature, a distended stomach and a broken leg limped towards them. He was very fragile, urinating and vomiting with fear.
"We asked a local woman what happened and she told us he has been like this for over a week," Nicole told us. He had been hit by a scooter. "She said 'you take' and that was exactly what we did."
The pair named the dog Ozzie. Nicole said, "he had warmed to us in less than an hour of collecting him from the roadside. He had never been cuddled or held before, but we were family from the very first hug."
So they took Ozzie back to their accommodation and got to work, taking him swimming to cool his fever and showering him with love. Nicole and Darren made it their mission to bring him back to health.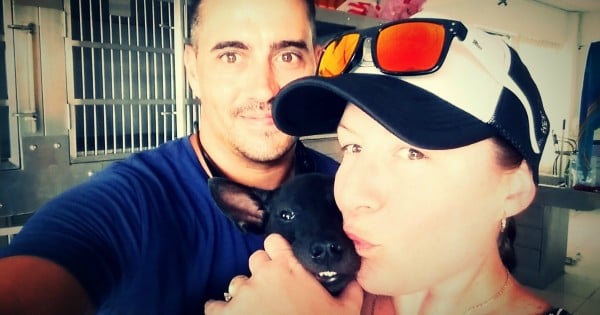 "I gave him his first shower, which he hated, but he just lay on a towel sleeping as we pulled almost 30 ticks from his tiny body," Nicole said. "He was just so sick. He slept in our bed every night on and became a complete mumma's boy."