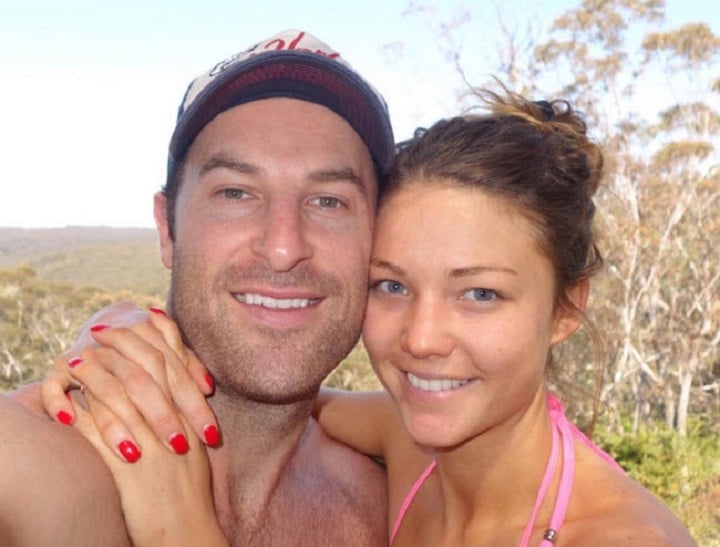 We were first introduced to Sasha Mielczarek and Sam Frost's gorgeous love story on The Bachelorette last year. And while we saw the early stages blossom right before our eyes, Sasha has shared how their relationship has been progressing in the mean time, since the cameras stopped rolling.
Speaking to The Motherish, Sasha exclusively revealed that he and Sam have plans to move in together this year. "I'm still down at the South Coast and obviously Sam is in Sydney for her radio. There is plans [to move in together]. It's not in the near future but it is close. We're probably looking at April-May, mid-year type thing. It's exciting," he said.
On The Bachelor love-birds Sam Wood and Snezana Markoski's recent engagement, Sasha says it hasn't put any pressure on him to advance his own relationship. "I think Sam and Snez are at a different stage in life to Sam and I. They're a little bit older and you know, Sam's only 26. You meet each other on a reality TV show and it takes a lot to know one another and to go through the normal progressions of a relationship," he explained. "We've gone through all these steps, we've been away on holidays, we've met the prospective families, we've hung out, we got a dog together and we do all that. It's just a natural progression and the next step will be to move in and then see how it all goes. I don't feel any pressure," Sasha added.
With Valentine's day just around the corner, Sasha is staying tight lipped on his plans for the day but said that for he and Sam "company together will be the main thing" as the pair have been missing each other with Sam in Melbourne for work as well as in Queensland visiting her parents and Sasha working in the South Coast.
But the pair are still keeping the romance in their relationship alive. Sasha said, "We've booked hotels for one another and taken each other out for nice romantic dinners. I've also taken her back to my home town of Bowral and taken her down to the winery."
Sam's early mornings being on the radio haven't influenced their time together. Sasha said, "If anything Sam has become more organised now that she's up early and she's got more time in the day to do other things. I think she's absolutely killing it and I love listening to her on live stream down the coast here every morning, I listen to her from 6am to 9am." Sasha is very proud of Sam's radio gig and said he laughs at the articles being written saying that she is inexperienced. "At the end of the day they obviously have nothing else to write about and they're just picking on a girl who is new to the industry," he said.
On KIIS 106.5 host Kyle Sandilands suggesting that Rove McManus and Sam's show will get axed this year, Sasha says, "That's just what Kyle does. It is water off a duck's back to anyone because at the end of the day he makes a living out of putting people down. If he wants to do it like that then that's his choice. I have nothing against him.
"I just think he's saying it because maybe he feels threatened by Rove and Sam? You know, they take on a totally different attitude towards their listeners where they want to be seen as helping people. They're paying people's bills. They're going over and meeting the people that they give these tickets away to. They're out and about and in it for the people. The true ratings haven't come out yet and that's going to take a while for them to register with the actual ratings with Rove and Sam. So we'll just have to wait and see," he went on.
With Sam being in the spotlight, the pair are planning an unplugged holiday. "We want to get away somewhere fairly soon it just depends when Sam can get some time off with her radio. We want to go somewhere where we don't bring any phones and it's just the two of us and that's it. We just lay on a beach or hang out. I think we need that. Sam definitely needs a break from it all," he explained. Of his fellow bachelors, Sasha said he only sees a select few of his friends from the show, saying, "I see Dave Billsborrow a lot, old plumber Dave. We probably speak most days. He's a good mate of mine and I see Davey whenever I can. Besides that I haven't seen many of the other guys to be honest."
When it comes to Michael however, Sasha said he's had no contact. On Michael suggesting that Sam was texting him behind Sasha's back last year, Sasha says, "That's what Michael does. To me I just brush it off. I know for a fact that Sam's not messaging anyone else so it doesn't bother me I trust her wholeheartedly. She was actually more hurt by it than I was. I don't know what his agenda is. Michael was a great guy in the house and that's all I know. I haven't really hung out with him outside of the house. He was great to me in the house and I've got no reason to judge him in any other light."
We can't wait to see what else this year has in store for Sasha and Sam.
'Love You to the Mills & Boon and Back' this Valentine's Day!

Harlequin Enterprises ANZ, publishers of Mills & Boon and purveyors of love, together with Sasha Mielczarek, winner of The Bachelorette, want to 'Love You to the Mills & Boon and Back' this Valentine's Day!

From 11 to 13 February 2016, Harlequin will be spreading the love in spectacular fashion with popup Mills & Boon events at BIG W stores in Macquarie Centre and Westfield Penrith. Whether you're
head over heels or looking for love, prepare to be smitten when you receive a rose and Valentine's card from our handsome models, and cherish the moment with a photo in front of our romantic rose
wall. You can also 'treat your shelf' to exclusive Mills & Boon Big W promotions on the day.

Westfield Penrith:

Thurs 11 Feb: 10am–9pm 

Fri 12 Feb: 10am–5pm 

Sat 13 Feb: 10am–5pm 

Macquarie Centre: 

Thurs 11 Feb: 10am–9pm

Fri 12 Feb: 10am–5pm

Sat 13 Feb: 10am–6pm

MEET SASHA from The Bachelorette!

No stranger to receiving a rose and winning hearts, get ready to swoon over Sasha from The Bachelorette as he makes a special appearance on Saturday 13 February at the following times:

Westfield Penrith: 11am–1pm

Macquarie Centre: 3pm–5pm