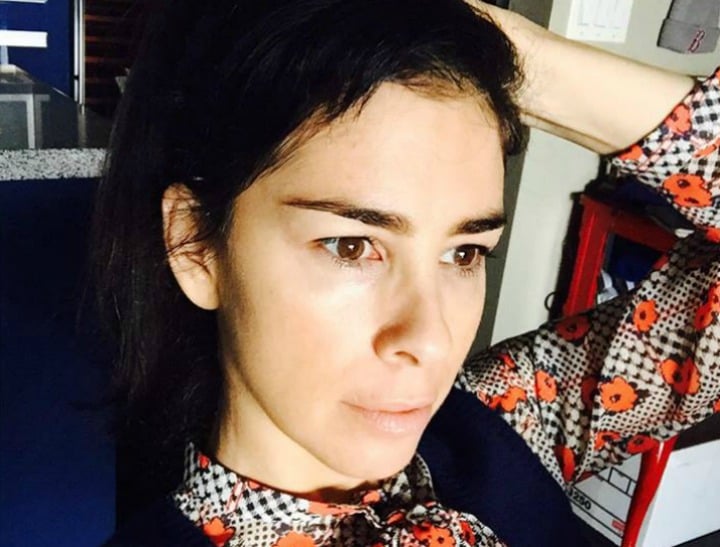 When you see Sarah Silverman on stage, you would never think she was suffering on the inside.
Confident, irreverent and absolutely hilarious, the 44-year-old writer, actress and producer looks like she was born to entertain.
This is the woman who, while dating Jimmy Kimmel, went on his show and played him a music video in which she and Matt Damon starred called "I'm F—king Matt Damon".
It's a classic. You can watch it here:
But, reminding us that looks can be deceiving, the 44-year-old penned an essay for Glamour magazine about the depression and anxiety she has suffered from the age of 13.
"It happened as fast as the sun going behind a cloud. You know how you can be fine one moment, and the next it's, 'Oh my God, I f—king have the flu!'? It was like that. Only this flu lasted for three years. My whole perspective changed. I went from being the class clown to not being able to see life in that casual way anymore. I couldn't deal with being with my friends, I didn't go to school for months, and I started having panic attacks. People use 'panic attack' very casually out here in Los Angeles, but I don't think most of them really know what it is. Every breath is labored. You are dying. You are going to die. It's terrifying. And then when the attack is over, the depression is still there. Once, my stepdad asked me, 'What does it feel like?' And I said, 'It feels like I'm desperately homesick, but I'm home.'"
And, learning that Silverman – a celebrity, a comedian, a successful woman who appears to be living the good life – has depression is genuinely shocking, as hearing that news about anyone often is.
Like the world was shocked when much-loved funnyman Robin Williams took his own life last year.
No matter how many times we hear that mental illness doesn't discriminate, there's still a perception that those with glamorous-looking lifestyles would surely not be marred by the punishing and potentially devastating condition.