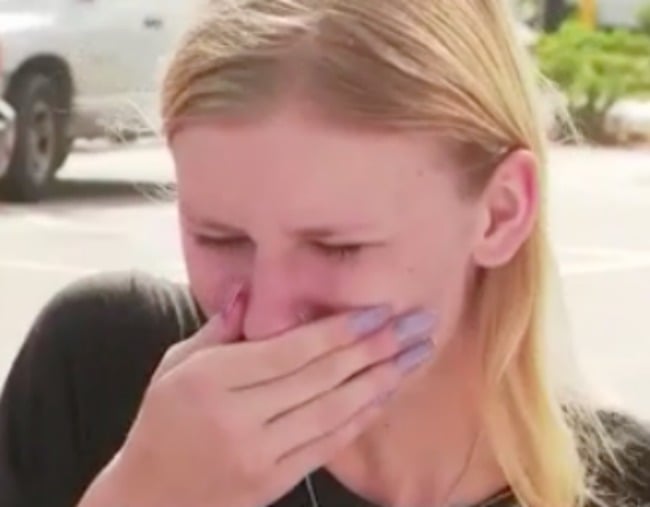 Just three months ago, in February, Santa Fe High School was in lockdown after someone reported a 'popping' sound outside. Thankfully, it was a false alarm.
But on Friday, those fears became a reality.
At 7:30am on Friday morning, a 17-year-old student armed with a shotgun and pistol killed nine students and a teacher, and wounded 13 others.
He's now been taken into custody, denied bail and charged with capital murder.
Police say he actively spared students he liked so "he could have his story told." Despite this, no official motive has been announced.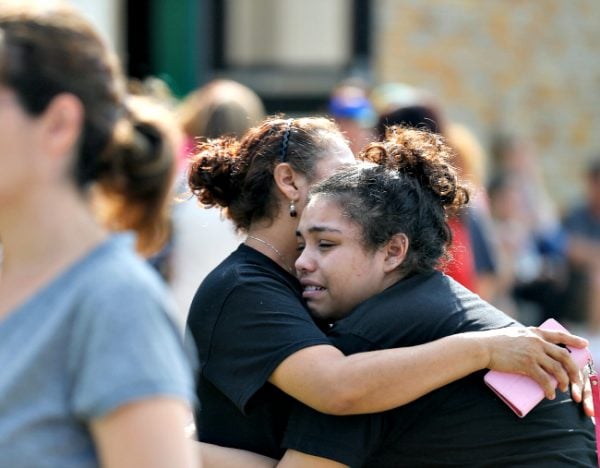 Like the 12 school shootings that have already happened this year, the accounts from the students of Santa Fe High have been horrifying.
But there's a difference.
They described the carnage, blood and crippling fear, yes, but what was more chilling was the bleakness, futility and inevitability expressed in their words. For these teenagers, a school shooting wasn't a matter of if, it was a matter of when.
As 18-year-old Madilyn Williams told the New York Times, "In the back of my mind, I knew it was going to happen."
Here are the accounts of a number of students:
The gunman jabbed his gun through a broken window and yelled, "surprise."
A 15-year-old student named by the New York Times as Mr. Beazley was in art class when he realised what was happening.
He described his class running into the storeroom and attempting to barricade the door with a pottery kiln. The substitute teacher, Ann Perkins, 64, went to close the door. She was killed by the shooter.
As the students worked on blocking the door, Beazley said that the gunman dug his pistol through a broken window.
He then yelled, "surprise," then an expletive, and then he started shooting.
When the gunman saw Beazley continue pushing the kiln, he directed his aim to him. Luckily, he was only injured and was grazed on his side, before being struck by the same ricocheting bullet.
"I wasn't surprised. I was just very scared."
When interviewed by the ABC, 17-year-old Paige Curry described hiding in her theatre class, three doors down from the classroom that the initial shooting took place.
"I didn't realise what they were at first, and then I realised what they were when we heard screaming," she said.
When asked whether 'there was a part of her that didn't think that it was real, that didn't think that it would happen in her school,' her response exemplified the new reality American high school students now face.
"It's been happening everywhere," she said.
"I've always kind of felt like eventually it was going to happen here, too.
"I wasn't surprised. I was just very scared."
Watch Paige Curry's chilling interview.
"People are missing or haven't been heard from."
Scot Hayes, 15, was one of the many students who were evacuated from the school after hearing the fire alarm.
"I'd never seen a bus for multiple casualties. I don't know how else to explain it. It was just a big bus that said 'Ambulance.' That really creeped me out," he said to The New Yorker.
Speaking to the publication on the day of the attack, he described the fear amongst the students.
"We aren't positive about anything right now," he said.
"The only thing going around is that people are missing or haven't been heard from. Maybe they've been shot. Maybe they've taken off. Maybe they don't have their phones."
"We keep on hearing shots."
Dalton Stevens, 16, remembers huddling with nine other students and their teacher inside a costume storage closest while sounds of gun shots echoed throughout the school.
"We keep on hearing shots. I'm shaking. I'm freaking out. I don't know what to do. Everyone is frantic. I prayed a couple times," he told the New York Times.
Stevens remembers sending two texts to his mum. One at 7:46 a.m., which read, "There's someone shooting in the school," and another three minutes later that said simply, "I love you."
While hiding, Stevens recalls seeing a wounded person walk into the classroom. Knowing that the shooter was in the hallway, Stevens said he had to fight his urge to help.
"It sounded like he was dying," he said. "I hear him in the room and I hear him talking on the radio, and I hear his restricted breathing, in agonising pain."
After finally being released by a police SWAT team, the 16-year-old remembers walking with his fellow students through the school hallways which were now covered in blood. He received a text back from his mum. It read, "On my way. I love u."