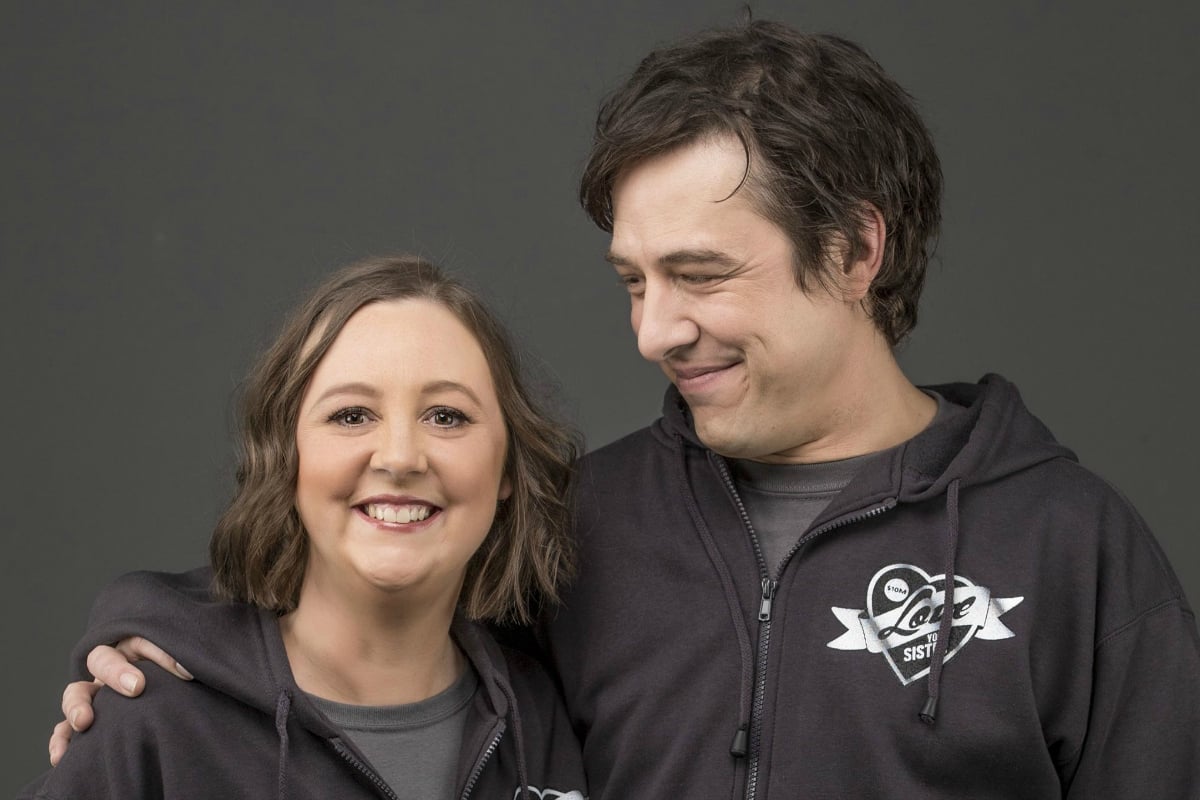 For 24-hour mental health support, call Lifeline on 13 11 14 or Beyond Blue on 1300 22 4636.
Samuel Johnson doesn't like labels around mental health. To him, dealing with it, managing it, is just a "boring" part of his life. The mindfulness, the symptom-tracking, the healthy diet and sleep, the endorphin-boosting exercise.
"It's fucking boring," he told Mamamia's No Filter podcast.
But the former Secret Life of Us star turned founder of cancer research charity, Love Your Sister, also credits his "manic" brain with some of the biggest achievements for the cause.
The decision to climb on a unicycle in 2013 and ride around the country for 364 days to raise awareness and funds. The record-breaking Big Heart Project, which raised $2.535 million in 5c coins. The $8.5 million in donations Love Your Sister has amassed in just six years. His self-appointed role of 'Head of Cancer Vanquishment in Australia'.
All inspired by his sister, Connie, who fought alongside him until her death of breast cancer in September 2017. And all a product, he said, of "grandiose delusions".
"I use that blue-sky area, I use those manic bursts, I use those delusions to create my life and my life is born from them," he said.
"So yeah, if you can harness your madness great things will come. But you can only harness it by facing off with it. If you do not acknowledge your madness and work to understand it – in the knowledge that it will know you better than you will ever know it – then you're just a raving lunatic, as opposed to a crazy guy done good."
Mental illness was part of Sam's life long before he received his own diagnosis. His mother was prone to extreme swings, and in the depths of one such swing she took her own life. Sam was just three years old.
"In my mum's day, when my mum was sick, they called it manic depression," he said. "Connie had it, I had it and [his eldest sister] Hilde's got it – absolutely no questions asked. But we're in a world now that is open about it, and I treat it now and I've treated it for years."
These days it's called bipolar disorder. Initially treatment meant six years of therapy and medication. But the latter isn't part of his management anymore.
"The combination of doing the work, getting the therapy, taking the medication and growing older and more weary has kind of led me to a state of relative calm," he said. "I think mental health is something that's harsher when you're younger."
Drugs – the non-pharmaceutical kind – also play a role in Sam's self-care. For more on that and how it fits in to his dogged mission to help cure cancer, listen to the rest of his extraordinary chat with Mia Freedman below.
You can download this episode or subscribe to No Filter here.
To support Love My Sister, purchase a copy of Sam's latest book 'Dear Santa', a collection of letters to Santa from some of Australia's most notorious and best-loved grown-ups. Or simply donate via the website.