Gold-Logie winner Samuel Johnson has revealed his first ever kiss was on-screen with actress and radio personality Kate Richie.
He was 14 at the time and both he and Richie were starring in the television series Home and Away.
Johnson was the town rebel, a character called Guy Bishop. Richie was the good-girl-caught-up-with-the-wrong-crowd, Sally Fletcher.
He opened the door to her and asked "Hey babe, got a kiss for us?" Just like that, history (Johnson's in particular) was made.
"Kate Richie was my first kiss. Not my first screen kiss. My first real, actual kiss. And it was on-screen!" the actor reportedly posted to Facebook yesterday.
"Many years later I hid from her when we were shooting Underbelly II, because I was still so embarrassed."
How Samuel Johnson found his happiness. Post continues below.

He shared the memory to thank Richie for donating to and raising awareness for the charity Love Your Sister.
Johnson and his sister Connie started the charity in 2012 after Connie learned her cancer had returned and it was terminal.
The 40-year-old mother of two has been battling the disease on and off since she was 11 and, in April this year, she decided to stop all chemotherapy and treatment. She is now in the final stages of breast cancer.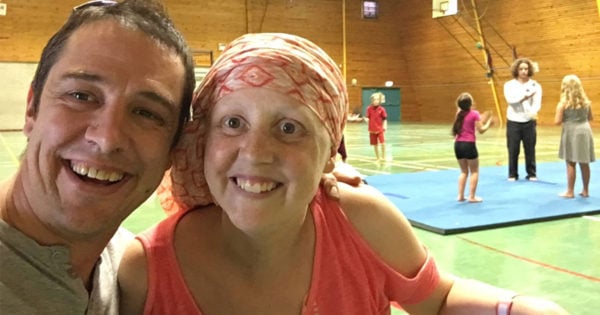 Richie donated a ceramic heart to be displayed alongside 2000 other pieces at the Garvan Institute in Sydney this weekend, as part of the Love Your Sister Heart Imprint Days initiative. The aim of the event is to raise $100,000 for cancer research.
"Why not buy your own heart on July 7th and 8th and be part of this wonderful initiative?" Richie urged her followers in an Instagram post.
"Why not have the fingerprints of all your family members or your best girlfriends side by side forever?"
Now, Johnson has shared the story of their first kiss (and his first kiss... ever) to thank the Home and Away star for her support.
"What started as a very awkward kiss 20 years ago has blossomed into a beautiful heart, made of her finger prints, in support of cancer research," he posted to Facebook.
"What a champ. Thanks for putting a beautiful ending on my awkward tale of woe Kate!"