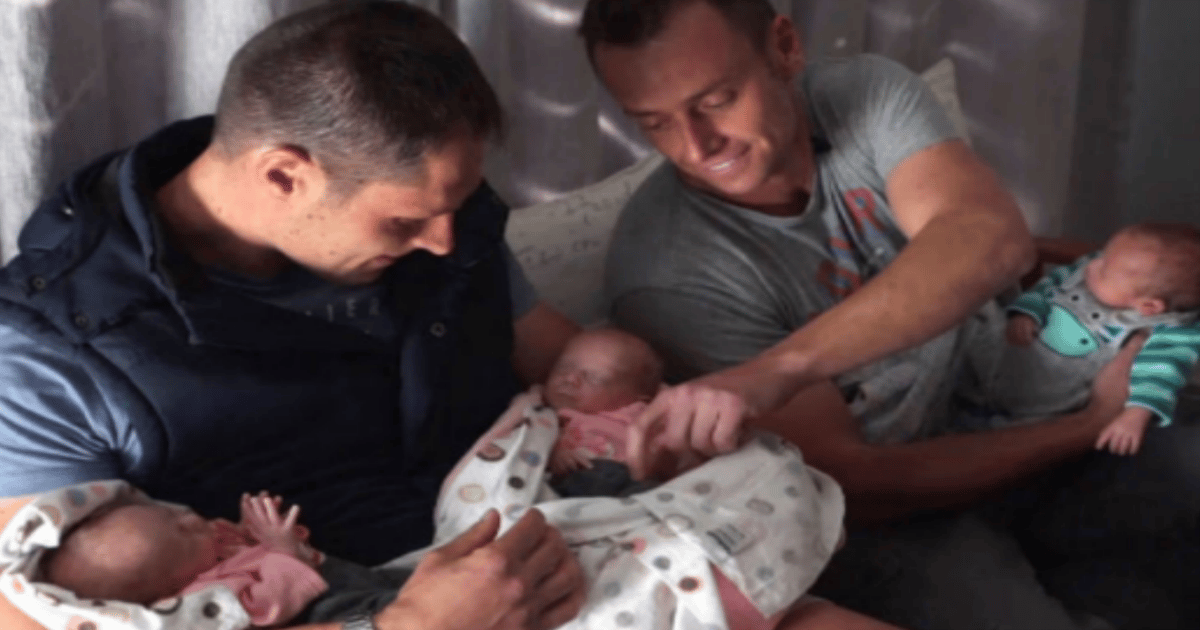 1. A same-sex couple have had triplets using both fathers' DNA.
In a world first a same sex couple have become fathers to triplets who share both fathers' DNA.
The men, from South Africa, used a surrogate with one egg each having been fertilised with a different dad's DNA.
One of the men is the biological father to the twin girls while the other fathered the third triplet, a boy.
Theo and Christo Menelaou, who were good friends and neighbours of former Paralympian Oscar Pistorius, were advised early on to terminate two of the babies after doctors discovered that one of the eggs had split and the surrogate was pregnant with triplets.
But they went ahead.
The babies, born in July weighed a kilogram each, are now home with their parents, though one of them will need to have heart surgery in the next few months. The two fathers care for their babies with the help of some live-in nurses.
Sky News reports the Menelaous are believed to be the first same sex couple in the world to have triplets with a male couple sharing biological fatherhood.
Theo Menelaou told Sky News they felt blessed. His husband, Christo said: "When you are gay, there is always the thought that it just may not be possible to be a parent no matter how much you would love to be."
2. Rio: Closing Ceremony flag bearer named.
The Rio Olympics closing ceremony begins this morning at 9am (AEST) with athletes from around the world returning to the Maracana to celebrate.
It is expected that the ceremony will take around four hours to complete, with speeches and the Olympic flame extinguished. The Olympic torch and flag will be handed onto Tokyo 2020 organisers.
Rowing gold medalist Kim Brennan will carry the flag and lead out the Australian Olympic Team. The athletes will leave the village on a charter flight home later tonight.
Meanwhile, the Boomers Olympic dream has come to an end with the men's basketball team losing 89-88 to Spain in the bronze medal match in Rio.
Medal Tally:
USA:  45 Gold  37 Silver  38 Bronze
Great Britain: 27 Gold  23 Silver  17 Bronze
China: 26 Gold  18 Silver  26 Bronze
Russia: 19 Gold  18 Silver  19 Bronze
Germany: 17 Gold  10 Silver  15 Bronze
3. Claims Australian woman was 'held down' in the sand by Balinese officer on the night of his death.
Blood belonging to Byron Bay woman Sara Connor and her British boyfriend David Taylor has been found at the crime scene where a Balinese police officer was killed Balinese police have revealed.
Fairfax Media reports police officer Wayan Sudarsa was found near a smashed Bintang beer bottle with 42 wounds last week.
Grand police commissioner Hadi Purnomo said the couple's blood had been found at the crime scene and the victim's blood had been found at the Kuta homestay where they had been staying.
"We see fit to name them as suspects based on the evidence," Mr Purnomo said.
He said witnesses saw Mr Taylor and Mr Sudarsa, wrestling on the beach and near the street.
"Two witnesses saw them – hotel security and an ojek (motorcycle taxi) driver. There is no doubting it."
Taylor's lawyer Haposan Sihombing said his client told police that Mr Sudarsa had held Connor down in the sand and that she had screamed which attracted passersby who came to her aid.
Ms Connor, 45, a mother of two and her British boyfriend, Mr Taylor, are facing up to 15 years in jail if found guilty.
4. Woman who threw banana at Eddie Betts banned from Power games but invited to take part in the club's Aboriginal cultural awareness programs.
A woman who threw a banana at Adelaide Crows star Eddie Betts in a racially charged attack has been indefinitely banned from Power games.
The woman was caught on camera throwing the banana at Betts after scored a goal from the left pocket to secure the 15-point win at Adelaide Oval.
A video appeared on social media shortly after the game showing the woman throwing something at the Indigenous star.
Port Adelaide has cancelled her club membership and offered to speak with the woman and invited her to take part in the club's Aboriginal cultural awareness programs.
"After talking to witnesses it is clear that the offender's behaviour was racially motivated and is therefore a significant breach of the club's values and spectator code of conduct," the club said in a statement late Sunday.
"Port Adelaide will meet with the offender in the coming days to offer her an opportunity to take part in the club's industry leading Aboriginal cultural awareness programs."
5. Turnbull backtracks on same-sex marriage promise.
Prime Minister Malcolm Turnbull is expected to announce when the promised plebiscite on same-sex marriage will take place – but it will not be, as promised, this year.
Australians will reportedly be asked to vote in February on whether they want to allow same-sex marriage reports The Daily Telegraph.
Australians would be asked the simple question: do you approve of a law to permit people of the same sex to marry?
Mr Turnbull and senior ministers repeatedly said they hoped to hold the vote by the end of 2016.
The Australian Electoral Commission told News Limited:
"The government has always said that a decision on same-sex marriage will be made by a vote of all Australians in a national plebiscite to be held as soon as practicable," she said.
"That commitment has not changed.
It is expected to cost taxpayers $160 million.
6. Man charged over Mossman rape.
A man will appear in court today after being charged over the rape of a woman in North Queensland on Saturday morning.
The man allegedly broke into the woman's house in Mossman about 5:30am and attacked her while she was sleeping.
A 20-year-old Mossman man has been arrested and charged with six counts of rape, one deprivation of liberty and entering a premises with intent.
The man is not known to the woman.
He has been remanded in custody and is due to face the Cairns Magistrates Court on Monday.
7. Suicide bomber as young as 12 leaves least 51 dead in Turkey.
A bombing at a wedding in southern Turkey on Saturday has killed 51 people and injured up to 94.
The attack, which took place in the city of Gaziantep, is suspected to have been carried out by a suicide bomber aged between 12 and 14 with links to so-called Islamic State.
"It was carried out like an atrocity," witness Ibrahim Ozdemir said. "We want to end these massacres. We are in pain, especially the women and children."
Do you have a story to share with Mamamia? Email us new[email protected]