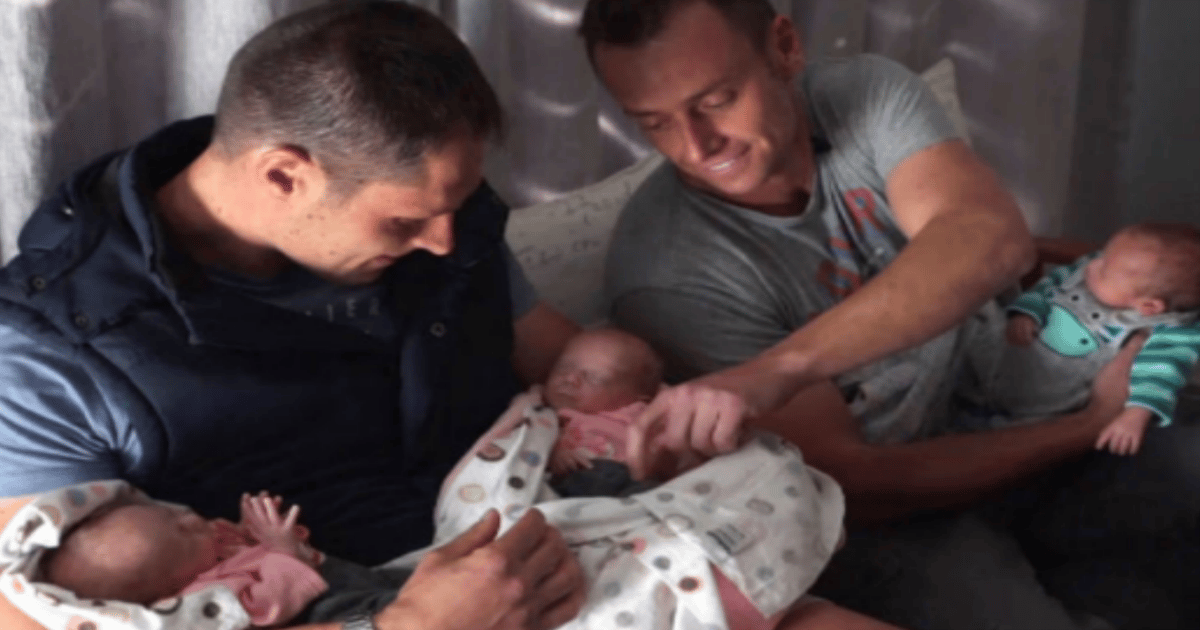 1. A same-sex couple have had triplets using both fathers' DNA.
In a world first a same sex couple have become fathers to triplets who share both fathers' DNA.
The men, from South Africa, used a surrogate with one egg each having been fertilised with a different dad's DNA.
One of the men is the biological father to the twin girls while the other fathered the third triplet, a boy.
Theo and Christo Menelaou, who were good friends and neighbours of former Paralympian Oscar Pistorius, were advised early on to terminate two of the babies after doctors discovered that one of the eggs had split and the surrogate was pregnant with triplets.
But they went ahead.
The babies, born in July weighed a kilogram each, are now home with their parents, though one of them will need to have heart surgery in the next few months. The two fathers care for their babies with the help of some live-in nurses.
Sky News reports the Menelaous are believed to be the first same sex couple in the world to have triplets with a male couple sharing biological fatherhood.
Theo Menelaou told Sky News they felt blessed. His husband, Christo said: "When you are gay, there is always the thought that it just may not be possible to be a parent no matter how much you would love to be."
2. Rio: Closing Ceremony flag bearer named.
The Rio Olympics closing ceremony begins this morning at 9am (AEST) with athletes from around the world returning to the Maracana to celebrate.
It is expected that the ceremony will take around four hours to complete, with speeches and the Olympic flame extinguished. The Olympic torch and flag will be handed onto Tokyo 2020 organisers.
Rowing gold medalist Kim Brennan will carry the flag and lead out the Australian Olympic Team. The athletes will leave the village on a charter flight home later tonight.
Meanwhile, the Boomers Olympic dream has come to an end with the men's basketball team losing 89-88 to Spain in the bronze medal match in Rio.
Medal Tally:
USA:  45 Gold  37 Silver  38 Bronze
Great Britain: 27 Gold  23 Silver  17 Bronze
China: 26 Gold  18 Silver  26 Bronze
Russia: 19 Gold  18 Silver  19 Bronze
Germany: 17 Gold  10 Silver  15 Bronze
3. Claims Australian woman was 'held down' in the sand by Balinese officer on the night of his death.
Blood belonging to Byron Bay woman Sara Connor and her British boyfriend David Taylor has been found at the crime scene where a Balinese police officer was killed Balinese police have revealed.
Fairfax Media reports police officer Wayan Sudarsa was found near a smashed Bintang beer bottle with 42 wounds last week.
Grand police commissioner Hadi Purnomo said the couple's blood had been found at the crime scene and the victim's blood had been found at the Kuta homestay where they had been staying.
"We see fit to name them as suspects based on the evidence," Mr Purnomo said.
He said witnesses saw Mr Taylor and Mr Sudarsa, wrestling on the beach and near the street.
"Two witnesses saw them – hotel security and an ojek (motorcycle taxi) driver. There is no doubting it."
Taylor's lawyer Haposan Sihombing said his client told police that Mr Sudarsa had held Connor down in the sand and that she had screamed which attracted passersby who came to her aid.