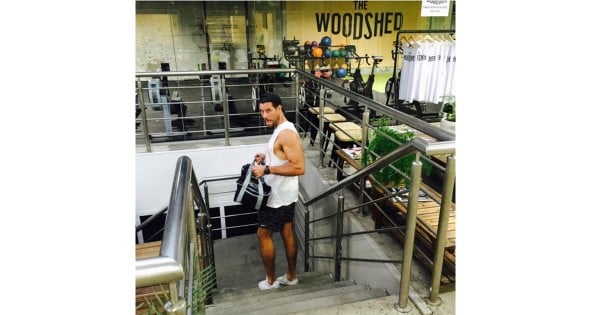 What does a typical day look like for a currently affianced former bachelor with a fitness fixation?
We know Sam Wood was the bachelor. We know he's not now. We know he and Snezana Markoski just bought a house together. We know he's really fit and partial to a deep-V neck.
But what we really wanted was to nosy around Sam's life — to find out what he eats, reads, drinks and just how much he works out. So we asked him, and you'll never guess what. He told us.
Here's a day in the life of Sam Wood, 35, fiance to Snez, fitness guru, Woodshed owner and bach no more.
6:30am:
I'm a creature of habit but (unfortunately as a trainer) not a morning person.
When my alarm goes off, I peel myself out of bed, put on a daggy hat and shorts and it's off for a walk with Hendrix (my chocolate lab and the other love of my life) and coffee at my favourite local, Batch (yep, that's right, Batchie!)
We do a few laps of the dog park in St Kilda and check in with the 28-ers (the amazing people doing my online program 28 by Sam Wood around Australia and the world). I send them videos with thoughts and motivation for the day, answer their questions and keep them on track!
Then it's a good morning message to Snez so she has something nice to wake up to (easy with her three hours behind in Perth) because as a mum her mornings are always chaotic.
7:30am:
Back home, shower, dress in jeans, tee and my current favourite pair of kicks (I have more than 150 pairs…) and Hendrix and I are off to my studio and office The Woodshed in Brighton.
8:15am:
Arrive at work, say "Hi" to the staff and clients and then it's to my desk to eat breakfast while checking emails for my businesses The Woodshed and Gecko Sports. Breakfast is oats, fresh berries and natural yoghurt and served by my little brother Alex, working at his café in my studio.
10am:
I savour my final coffee for the day from Alex and eat some almonds and a banana to get me through to lunch.
Watch some of Sam's 28-ers talking about the program. Post continues after video…