It's been just over 12 hours since the highly predictable but no less traumatic dumping of Apollo Jackson from The Bachelorette. It was awkward, and we'd really like to forget it ever happened if that's OK with you.
And before the lifeless body that was Sophie and the magician's relationship has had a chance to go cold, one Bachelor alum thinks it's time for Apollo to move on. And by move on, we mean, becoming The Bachelor star in 2018.
That Bachelor alum is none other than Sam Wood.
There's no denying the season three Bachelor knows a thing or two about successful reality TV relationships. Having just welcomed a baby girl with his season's winner and now-fiancee, Snezana Markoski, the new dad is semi-qualified to advise on, well, being a decent Bachelor.
He seems to think so too, posting his opinion on his Instagram story on Wednesday night.
"Farewell Soph and hello next Bachelor @apollojacksonofficial. What a ripper!," the personal trainer wrote alongside the man himself.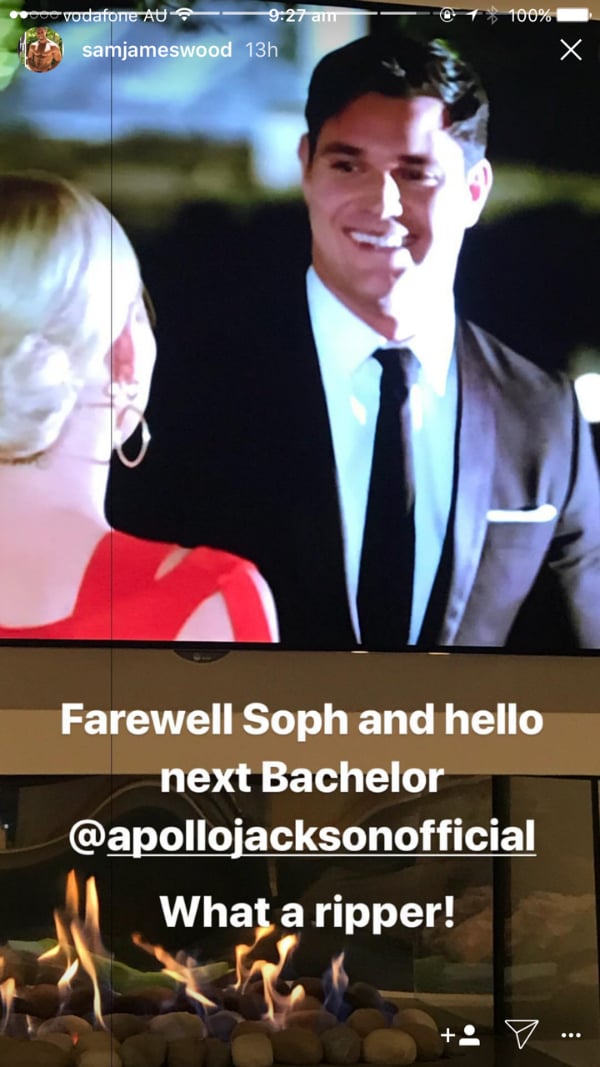 As for Apollo? Yeah, he'd be keen. Which pretty much means he'll be signing a contract aaaaany day now. Right?!
"It would work, people have seen me on the show — I guess they've seen a snapshot but there's so much more to me," the magician/singer/horse whisperer told News Corp.
"I'm still looking for love but I'd want to attract the right girls who are in it for the right reasons."
While former Bachelorette offcuts have a track record of becoming unpopular upon taking the top job - Richie, Matty anyone? - we've got a feeling it'd be pretty damn hard to get sick of watching his face on the telly every night.
If all else fails, just bring back the puppies.
Apollo when he remembers he doesn't have to stress about the Rose Ceremony cause he scored a rose already...#BacheloretteAU pic.twitter.com/1ugGWonnhU

— Channel Ten (@channelten) October 12, 2017
LISTEN: Debrief with Australia's funniest (and most honest) Bachelor podcast, Bach Chat...