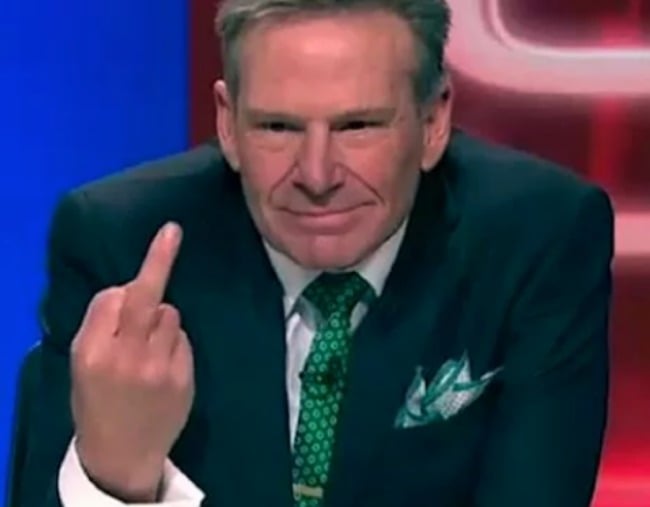 The rules don't apply.
In a post-Weinstein era punctuated by a sense of no tolerance and a promise that time is up, Sam Newman, his furrowed eyebrows, pointed fingers and outlandish cynicism bellows into our homes every week, illuminated by the bright lights of the industry and held up by a world that won't let him fall.
The rules don't apply.
After all, last night Newman proved we can call time on misogyny and the men that sprout its poison, but our calls will never come to him. Sam Newman can do whatever he pleases, because if you're Sam Newman, the rules don't apply.
In case you missed it, yesterday was International Women's Day; a powerful day to celebrate women and a day to press for change.
Sam Newman fronted the Footy Show for their first show of the season.
"Now, Sam I have got to ask you, you have made the headlines the last couple of weeks," Eddie McGuire asked Newman across the panel, referencing recent reports about his running for mayor.
"Even your nemesis at the Herald Sun Susie O'Brien is writing that it could well be conceivable that you could be the next Lord Mayor of Melbourne," McGuire went on.
Watch Sam Newman make vile comments about Susie O'Brien on The Footy Show. Post continues after video.

"I reckon that woman gets aroused when she writes about me," Newman said. "I am keeping her in business, I reckon she secretly wishes I would chat her up.
"I don't think she has ever got to worry about the #MeToo movement because I don't think that will ever visit her," he said. "She is delusional."
O'Brien, for context's sake, has publicly disapproved of many of the controversies Newman has found himself embroiled in in the two decades he has been on the show. In the case of his running for mayor, her piece wasn't nasty, nor did it suggest he would be totally unsuitable for the role. Newman's attack was unprovoked, horrifically sexist and – before you say it – a 'joke' that wasn't funny.
Happy International Women's Day.
Last year, when Eddie McGuire was announced as a returning host of the show, he was clear about how the embattled program would be revived:
"We're gonna let Sam off the leash. He's gonna be going full pelt," he said.
"We're going back to saying things as they are."
Perhaps McGuire was accidentally conflating Newman's brand of honesty with his more unfortunate habit of being arsehole.
In 1999, after former AFL player Nicky Winmar refused to appear on the program, Newman decided to "step in". He walked onto set in blackface, his face covered in shoe polish.
The Mamamia Out Loud team discuss whether the Footy Show is anything more than televised sexism. Post continues after audio.
In 2008, Newman called Western Bulldogs board member Susan Alberti a liar and a hypocrite on air. She sued for defamation, and Channel 9 were forced to settle for a reported $750,000.
That same year, Newman stapled a cut out of AFL journalist Caroline Wilson's face on a lingerie-clad mannequin. He proceeded to make lewd comments and grope the mannequin. Wilson later described the stunt as degrading, humiliating and insulting. Newman, however, said this:
"What would I be apologising for?
"This was not a gender thing, it was not meant to degrade anyone or anything. I'm yet to understand what's insulting about putting clothes on a mannequin."
In 2009,  when a clip was played on air of Tasmanian MP Paula Wriedt commenting on a sponsorship deal backing a new Tasmanian AFL team, Newman said: "We couldn't get her on, could we?"
He went on, as the audience's laughs grew louder: "Worthy of coming on, her."
In 2009 – again – Newman likened a Malaysian man to a monkey. He compared the man to one who was "not long out of the forest".
In 2016, when joined on the show by Rebecca Maddern, Newman's treatment of her was labelled "workplace harassment". He told Maddern to "come get on your knees" or instructed her to "lie nude" across the panel table.
"This actually constitutes workplace harassment and could even be unlawful," Domestic Violence Victoria chief executive Fiona McCormack told the Herald Sun at the time.
In 2017, Newman, in talking about Caitlyn Jenner, strayed from his usual racist and sexist diatribe to include transphobia in his resume:
"I know who he … it is," said Newman. "Oh well what is she? Is it a he or a she. Is it transgender, is it?"
But of course, you know this already. Headlines come and go, controversy like a shadow in his wake and every Thursday, Sam Newman fronts the Footy Show, boasting of being a crusader for the anti-political correctness agenda.
The world's gone mad, he says. He couldn't possibly be the problem.
But you see, for as long as The Footy Show struggles in the ratings, the longer they will hinge their hopes of Newman's talent for going rogue and sprinkling his "sense of humour" on the minority he deems worthy of insult.
When Mamamia reached out to Channel 9, asking if they stood by their star, a spokesperson refused to comment on why they allow him to repeatedly sprout his ignorance, saying: "The comments made by Sam Newman were his own view and not the view of the network."
Sam Newman walks on freeways of hot coals but doesn't come out with a blister. He is clad in a coat of Teflon, insulated from our critique by a circle of network heavyweights who are sure he is the solution to their ratings woes.
He offends, he insults and he slanders, enabled by a handful of fans and loyal network mates who have made the misguided assumption that authenticity and being a prick are one and the same.
If you're Sam Newman, the rules don't apply.
Or maybe I just don't get the joke. You know, because I'm a woman.