Sam Frost is making a comeback to our television screens, dabbling in a very different kind of reality television.
The radio host and former Bachelorette will be apart of a very special Australian version of Hell's Kitchen, where celebrities will battle it out to produce restaurant-quality food.
However, Frost has ackonwledged there may one "just one problem" with her casting, and that's that she "burn[s] everything and can't cook".
Speaking to News Corp about the news, Frost said she can't promise there won't be tears. Renowned UK chef Marco Pierre White will host the show, who – in past seasons of the UK show – had no problem throwing plates if a dish isn't up to scratch.
"I'm hoping I don't break down," Frost said told News Corp.
"I'm not too sure how I'm going to hold up because I am such a sensitive soul. I don't take criticism very well, I usually cry."
Ten celebrities will take part in the battle when the show airs later this year on Seven.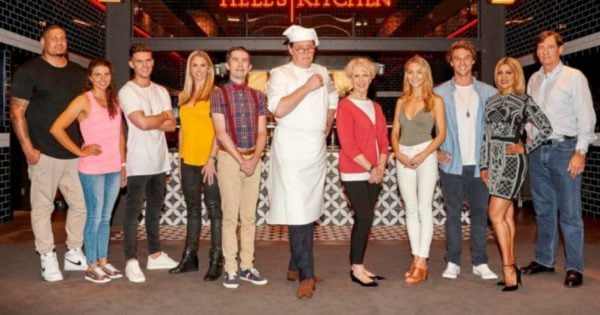 The full list of contestants are as follows:
David Oldefield (ex-One Nation politician)
Jess Fox (Olympic Silver Medalist for conoeing)
Willie Mason (NRL player)
Gary 'Gaz' Beadle (British reality star of Geordie Shore)
Candice Warner (Former Ironwoman)
Sam Frost (Radio Host)
Issa Schultz (The Chase Australia's Supernerd)
Debra Lawrance (Home and Away actress)
Lincoln Lewis (Actor, former star of Home and Away)
Pettifleur Berenger (Real Housewife of Melbourne and property developer)
Frost has been in and out of the headlines this year after her split with former Bachelorette contestant Sasha Mielczarek in January. Weeks later, it was announced Frost's Today FM radio show with Rove McManus had been bumped from its prime breakfast slot to make way for Em Rusciano and Harley Breen.

Love TV? We have a whole podcast dedicated to it.