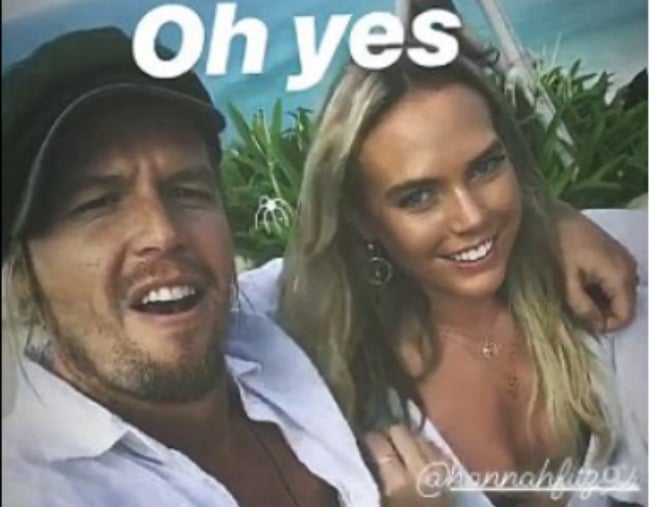 Nearly a month from his confirmed breakup with Tara Pavlovic, Sam Cochrane has been spotted partying with a season six Bachelor contestant, Cassandra Wood, in Bali.
The 31-year-old voice actor shared an Instagram story video of him with Wood at a pool party in the tropical paradise. Also in the video was fellow Bachelor in Paradise contestant Luke McLeod and a second woman.
Watch the video from Sam's Instagram story in the clip below.
And something seems a bit 'off', if we do say so ourselves.
You see, the 23-year-old Home and Away actress and Miss World Australia NSW 2017 Finalist is one of the few confirmed contestants for the new season of The Bachelor with Nick 'Honey Badger' Cummins, and has already been dubbed as a favourite to win the competition. It's also been revealed that she and Cummins know each other outside of the show, with rumours of a romance currently doing the gossip rounds.
Daily Mail Australia even reported that Wood makes it to the final four.
And here Wood is at the exact same venue at the exact same beach getaway at the exact same time as two fellow Bachelor stars. Very suspicious indeed.
The argument could be made that the reality-TV-powers-that-be wanted to throw fans off the scent of a potential Wood/Cummins romance by staging an overseas meet-up between Cochrane and Wood.
What's more, Wood is meant to be off social media completely – her last post on her own Instagram being in March this year.
Additionally, could Wood in fact be escaping to Bali because she's won Cummins' heart, and the risk of being caught together in Sydney is too high?
Maybe we're just too caught up in reality TV conspiracy theories… call it a hobby, whatever.
The first episode of The Bachelor Australia isn't set to drop until Wednesday, August 15, so there's not to long to go before things start to make sense.
Until then, we're all for the conjecture, just no spoilers please.
What do you think of the situation? Tell us in a comment!
The new season of The Bachelor is coming… We recount the most dramatic goodbyes from The Bachelor and The Bachelorette.