Sally Obermeder couldn't shake the feeling her family wasn't complete.
Diagnosed with breast cancer the day before giving birth to her first child in 2011, and eventually recovering after gruelling treatment, doctors advised her not to attempt another pregnancy due to lingering risks.
So Sally focused on enjoying her renewed health and her daughter, Annabelle Grace.
Still, five years later, that urge to have another child hadn't yet gone away. In fact if anything, it was even stronger.
"I wanted Annabelle to having a sibling. It was so strong." She thought it was worth trying and even if it didn't result in a sibling, she'd be at peace with the fact at least she tried.
That's when the 43-year-old The Daily Edition host and her husband Marcus began discussing finding a surrogate.
It would prove to be easier for them than most. Having conceived Annabelle using IVF, the couple still had four frozen embryos in storage.
But there was a catch.
Due to Australia's surrogacy laws, the couple needed to find a surrogate willing to do it altruistically, for free, out of the goodness of her heart.
Sally Obermeder spoke to Mia Freedman on the No Filter podcast about finding a surrogate. Article continues…
They contacted a surrogacy agency in the U.S. called Growing Generations that had been recommended to them and made their request, ending up with neo-natal nurse and mother-of-three, Rachel.
Their second daughter, Elyssa Rose, was born at the end of 2016.
Currently on 10 months of maternity leave, Sally Obermeder says she's in heaven.
"I wanted the maternity leave not only for Elyssa, not only for me but also for Annabelle because she didn't really get it last time and I felt like this was her chance to have it as well."
Sally admits the adjustment of having a baby sister has been tough for Annabelle, 5 who had become used to being the recipient of all of her parent's attention.
"And I get it. For Annabelle she's had the sole limelight and all of our love and attention for five years and suddenly – and I think I was extra conscious because she didn't see me pregnant, so it wasn't this thing she lived with every day that she saw happening."
"So it was a big adjustment. Big"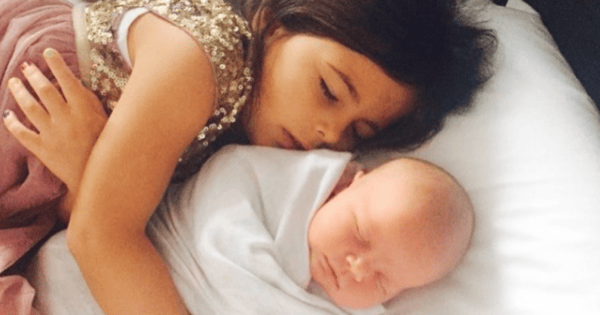 There was a lot to consider before beginning the hunt for a surrogate, with husband Marcus concerned the experience would bring back memories of her painful cancer struggle which began as a breast cancer diagnosis during pregnancy and resulted in chemotherapy, radiation therapy, a double mastectomy and reconstrutive surgery, all while trying to care for a newborn.
"But it's funny because also I wouldn't take it back because having a baby gives you that impetus to really fight." She also had a lot of help from her husband, sister, parents and close friend.
After finding surrogate Rachel and agreeing to begin the incredible journey together, Sally says she never looked back.
Yes, it was hard. The first implant resulted in a pregnancy that ended in the absence of a heartbeat at a routine ultrasound and plenty of tears.
It was at the 11-week scan during which they were all on a Facetime call together - with Rachel's three girls in the room. At first it was all jovial with the doctor commencing the scan, saying everything was progressing nicely.
Then silence.
Then the sound of Rachel crying.
Sally and her sister Maha were in a cafe and it was noisy so they didn't understand what was going on until the doctor said, "I'm sorry, there's no heartbeat."
"It was really shit.
Funny fails of sleep deprived mums. Article continues...
"I remember Georgie Gardner saying once  - and it was before this but it really struck me. She said when people have a miscarriage and someone says, 'how many weeks?' And then they say, oh, only five or only seven or only 10 or whatever and it really hit a nerve because it was something that I used to say to people as though somehow it's less painful the earlier it is.
"It's such an ignorant, ridiculous thing to say."
Then the second and third embryos didn't take.
Elyssa is the result of their fourth and final embryo and they had to make peace with the fact it may not end well, but Sally says she would have been happy knowing she'd tried everything she could.
At the birth it was all happy tears. "She [Rachel} was crying and I was crying."
Sally says her experience using a surrogate was so beautiful and rewarding, calling Rachel "amazing" several times.
Her only regret is that she wasn't able to pay, aside from medical bills and associated pregnancy costs.
"To me what's most infuriating is when people say, I don't think the surrogate should get paid and it's like, really?
Why don't you hit up the doctor and ask him if he shouldn't get paid or the lawyer or the fertility specialist or the embryologist? Everyone's getting paid and let me tell you, the amount that surrogate gets [in paid arrangements] is so small compared to what everyone else is getting and the thing is, they do all the work and bare all the risk."
Listen to the full episode of No Filter with Mia Freedman and Sally Obermeder.
To subscribe to No Filter in iTunes go to apple.co/mamamia where you'll find all of our shows in one place and any books written by the many Mamamia guests
Find Sally's Super Green Smoothies here.