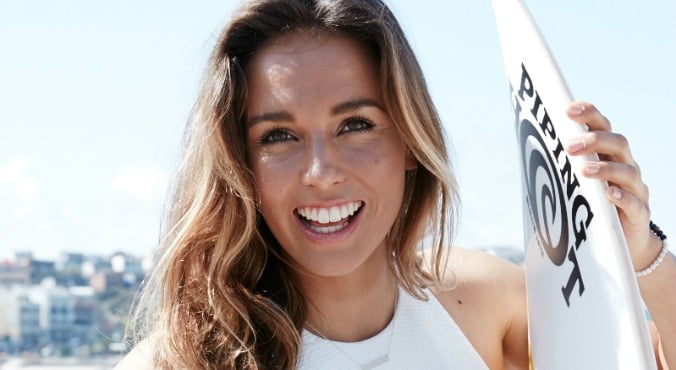 Image: Supplied.
At 24 years of age, Sally Fitzgibbons already has a list of world surfing championship titles to her name. One of the most recent was this year's Fiji Pro, which Sally managed to take out with a painful perforated eardrum and a bandaged head — a testament to her resilience and drive.
The South Coast local has also featured in a biopic and released a book called Live Like Sally, filled with sporting career, health and fitness wisdom.
More recently, she's been named the face of Solar D, a line of sunscreens that allows vitamin D production — which is handy, because despite her sun-soaked lifestyle Sally is vitamin D deficient. "With all that sun that I'm getting my skin hasn't been absorbing it, so it's a cool way to find a solution to that," she says.
How on earth did you keep surfing after you ruptured your eardrum?
"I didn't really realise the consequences or how powerful the wave was, and all I knew was that I busted my ear. I just remember the doctors taping up my head, and I had no idea what I looked liked and I couldn't hear a thing. Before I knew it I had gone through all the way to the final. The feeling of winning, it was just — my whole body was in so much pain. Everything was just like a big heartbeat in my head, and the pain didn't return until later that night after all the adrenalin. I started vomiting severely for about six hours because I was so exhausted. It was pretty full on."