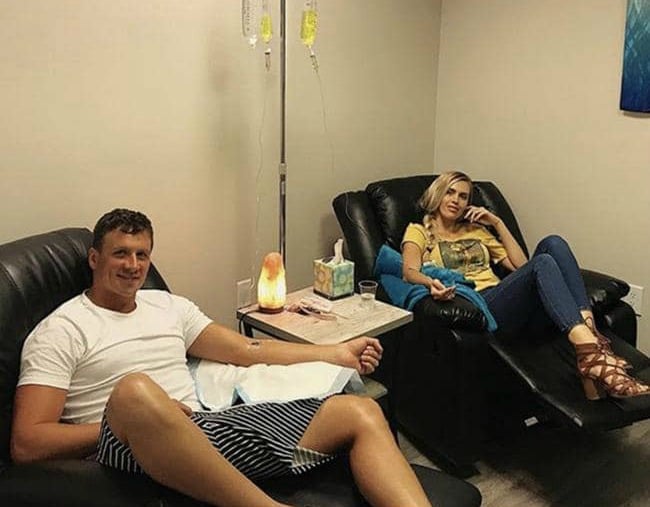 With AAP. 
Six-time Olympic gold medal-winning swimmer Ryan Lochte posted what he thought was an innocent photo on Instagram – and it got him suspended from swimming for 14 months.
The American swimmer shared an image of him getting an intravenous injection in May, which triggered the US Anti-Doping Agency investigation. The method is typically banned under USADA rules.
USADA said in a statement that Lochte was not using a banned substance but that it prohibits such infusions or injections in excess of 100ml within a 12-hour period unless received in the course of hospital treatment, surgical procedures or clinical diagnostic investigations.
Lochte, a 12-time Olympic medallist who made headlines in 2016 over a tale about being robbed and held at gunpoint after a party during the Rio Games which he later admitted was "overexaggerated", fully cooperated with the investigation.
The swimmer, who won gold in the 4×200 metres freestyle relay in Brazil, missed last year's world championships while serving a 10-month ban handed down by the United States Olympic Committee for his part in the Rio scandal.
This is the photo that got Ryan Lochte banned 14 months. pic.twitter.com/1CljxSFlzy

— Nick Zaccardi (@nzaccardi) July 23, 2018
Lochte, speaking at a news conference shortly after the USADA announcement, was quoted as saying he would not let his latest setback keep him from working toward his goal of earning a spot at the 2020 Olympics in Tokyo.
"I wasn't taking anything illegal," said Lochte. "Everything was legal. You can get it at CVS, Walgreens, but there are rules, and you have to obey them … Don't worry. I'm not giving up. I'm going to keep going.
"It's devastating to my family about this because I definitely made myself a better person after Rio, and I was back in training.
"I was feeling good. I was swimming fast. My son being born. Everything was happening. Everything was perfect, and then this happened. And it's devastating."
Mamamia is funding 100 girls in school, every day.
So just by spending time with Mamamia, you're helping educate girls, which is the best tool to lift them out of poverty.
Thanks for helping!