On Friday night, audience members were humbled to be in the presence of the queen herself, Sasha Velour, as she strutted and snatched her way to the RuPaul's Drag Race season nine finale.
In a brand new format for the show's finale, Sasha Velour and Shea Couleé engaged in an epic lip sync battle to Whitney Houston's "So Emotional".
In the clip, the battle starts with the usual strutting and miming that audiences have come to expect with lip sync battles made famous by Jimmy Fallon, showcasing the contestants' moves and fabulous garb.
As Sasha sashays along the stage, she removes her glove, sending a shower of rose petals floating onto the floor.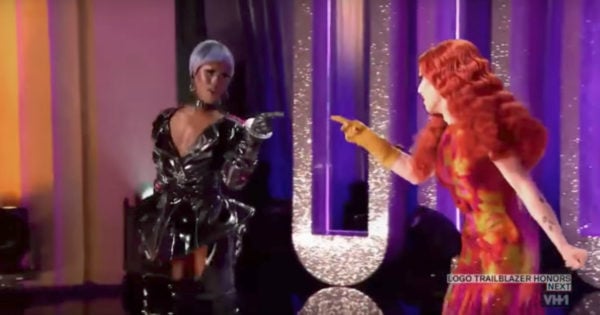 The song progresses, and she removes another petal-filled glove.
Finally, as the song and audience cheers crescendo, Sasha removes her wig to release a stunning waterfall of red petals from her bald head to the ground.
Sasha made the decision to shave her head for mother Jane Hedges, who passed away from cancer last year.