It's no secret that police are pretty great people to call when things turn sour and you're in need of some legal back up, but it turns out that they're also the people to have on speed dial should you need some back up dancers to partake in the world's latest dance craze, the running man challenge.
Started by two American university basketball students, the challenge is simple. Just do the running man dance to the Ghost Town DJs song, "My Boo" and upload to social media.
Because let's be real here, if it's not on social media it never really happened.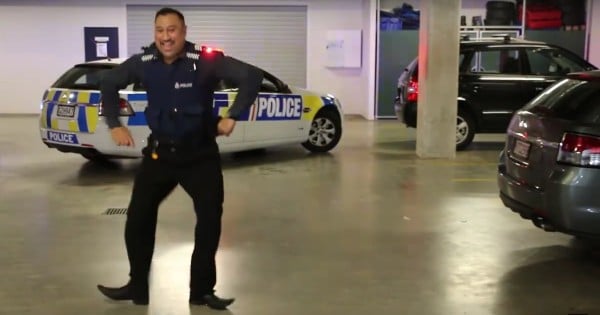 Has handcuffs and dances. Ladies, meet your dream man. Source: Youtube. 
In the fortnight since the challenge was originally launched, thousands of dance aficionados around the world have uploaded their takes, most notably the New Zealand Police force.
Being shot in an underground car park, the video shows a group of officers taking to the makeshift dance floor before one badge holding Lord of the Dance takes over, putting his workmates to shimmying and swaying shame.
The video has amassed almost 5 million views since being posted on Monday, and included a call out to other police forces around the world, saying "We catch people on the run every day, this was a new #runningmanchallenge for our team. Are you up for it" before tagging all Australian state and territory forces, as well as the Isle of Scilly in the UK, and Los Angeles and New York.