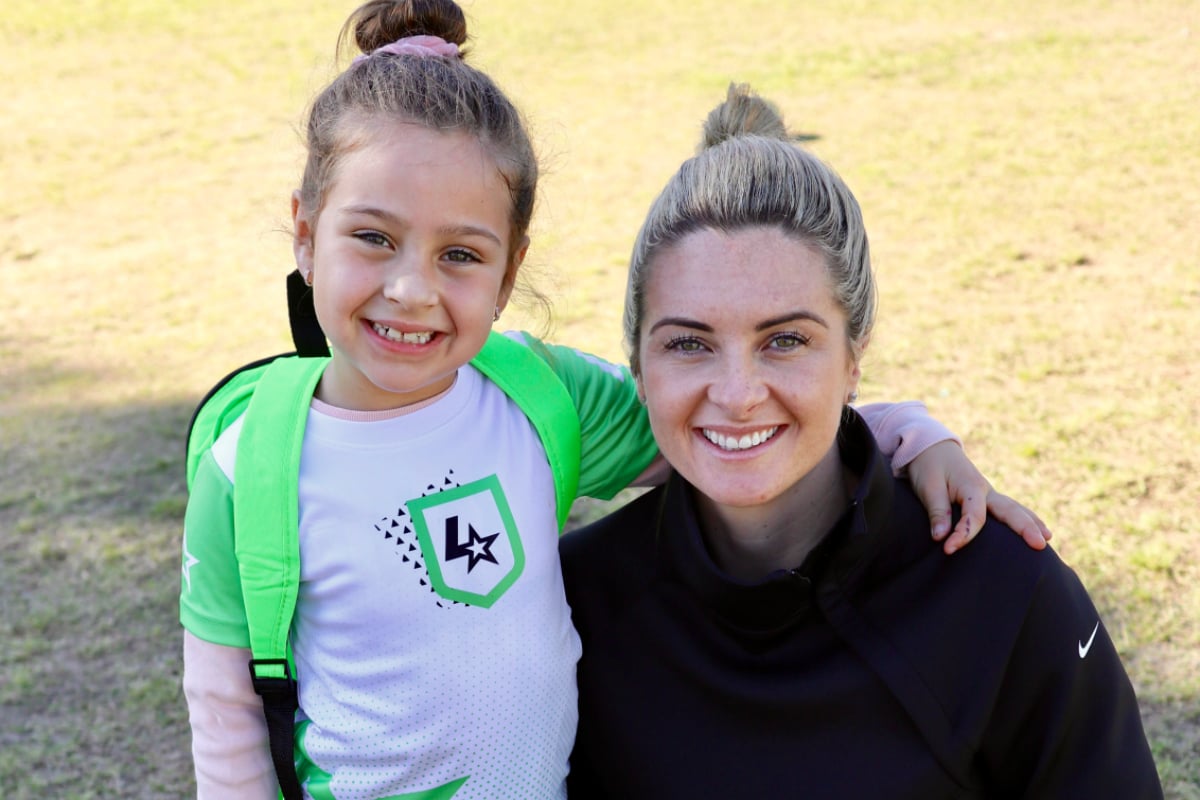 Rachel Thaiday is a certified personal trainer, ex-netball player, and the mother of two kids with her husband, retired Brisbane Broncos rugby player Sam Thaiday.
Let's be honest, as parents today we feel like we need to fill our kids' calendars with every type of extra-curricular activity possible.
I know this because I do it. In my mind, I feel like if I let my girls, Gracie, six, and Ellsie, four, try all types of activities, they will figure out what they love to do naturally, rather than it being forced on them.
So, I can easily say we've tried every extra-curricular activity that is possible for kids under the age of six: gymnastics, movement classes, kids' yoga, Little Athletics – you name it.
Right now, we are doing tennis, dance (ballet, jazz and tap) and swimming. My guess is that from trying all the other activities before, it has led us to these, and the girls are absolutely loving them. I never thought the day would come when I would be a 'Dance Mum' – this is a new world for me, too.
When I think back to my own childhood, I was lucky enough to try different things too. I loved riding horses, playing netball and Little Athletics the most, and gave each of them my best shot.
As I got older, and our family relocated from country South Australia to Tropical North Queensland, my horses had to be sold and netball became my chosen sport. So much so that it was my world and I ended up a part of the Queensland Academy of Sport on a scholarship for several years. No matter where I was, sport was part of my life and helped shaped me as a person, and the mother I am today.
My heart's desire is to raise two strong little women that enjoy everything they do as well. My motto to them is, "If you are going to give it a go, make sure you give it a good shot".
As the wife of a retired footballer, the hottest question going around when we had two girls has always been, "So are you going to let your daughters follow in their dad's footsteps and play footy?"
My response until recently was always a firm "No way". I have seen what happens in the elite NRL games up close, and there was no way my girls were ever going to be on the end of one of those tackles.
Over time, Sam and I have allowed our girls to become their own little people, and in that time, they have developed their own desires to try different things; one of those being their desire to try out Daddy's favourite game.
Yes, they wanted to try football. Not wanting to be a hypocrite, and following my own words of advice, I had no choice but to allow them to try their new sporting desire.
We tried a new program run by the NRL called League Stars. Despite my hesitations in letting my baby girls start football, the League Stars motto was what hooked me – "Be Your Own Hero". It's a message my daughters connected with, and so did I.
League Stars is a skill-based football program, designed for all kids on all levels. Focusing on the true, fun-loving nature of kids in all their messy, high-energy glory, this program is non-contact.