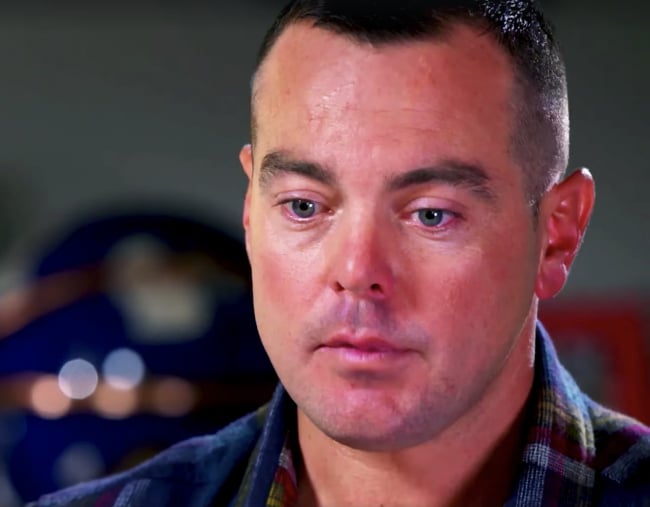 On October 16 last year, seven friends were working in the seas when their fishing dive boat, Dianne, capsized in shark-infested, rough seas.
The men were left trapped inside the upside down boat, and it was quickly flooding.
Just off the town of 1770, near Gladstone in Queensland, Ruben McDornan was the sole survivor of the horrific event. He spent 12 hours in the waters, with the knowledge that he had lost his six closest friends and that the chance of his own survival, in the waters known for being crowded with tiger sharks, was slim.
On 60 Minutes tonight, Ruben McDornan shares his story of survival with Australia for the first time in a raw and emotional interview, explaining the inconceivable tragedy he faced.
McDornan recalls in the interview that as the water started drowning the boat, the weight on an outward opening door – their escape route – increased rapidly.
In his emotional account, he reveals that he remembers thinking if dying was going to hurt and the moment he thought he would be taking his last breath.
"I was like, 'This is it. It's coming in. We're not getting out'," McDornan says in the interview.
"I started to think I was going to die."
A fishing dive boat capsizes in shark infested waters. Seven Aussie mates are trapped, inside and upside down. 8.30 SUNDAY on #60Mins | Bravery beyond belief on a night no one should have survived. pic.twitter.com/SD5FReq6yP

— 60 Minutes Australia (@60Mins) July 18, 2018
McDornan was able to ram a finger through an air bubble and miraculously surface atop the upside down boat, as he waited for his friends to do the same.
"I wanted to go back under, but the boat was completely submerged," he explains to reporter Allison Langdon. But he eventually realised what would happen if he went back down, and knew it wasn't a safe option.
McDornan said he could hear his friends banging as they too tried to frantically get out of the boat.
"Then I just screamed into the hull, 'Oi.' Then I heard a voice scream straight back," reveals in McDornan in a heartbreaking revelation.
Tragically, the boat drowned a few hours after it capsized and McDornan was left alone, saying he "broke down" as soon as he realised that he just lost six of his best friends.
"Why is it that terrible things happen to amazing people? One of the most gripping and emotional pieces of television I have ever produced. A story so powerful, tragic yet uplifting." – @allisonlangdon | THE CRUEL SEA – Sunday on #60Mins pic.twitter.com/NZ40pdlf0g

— 60 Minutes Australia (@60Mins) July 20, 2018
In the sneak peak released by 60 Minutes, McDornan says, "You try open your eyes underwater at night in the ocean. It's not like opening your eyes underneath the pool…It's a death trap."
He was treading water as the the outgoing tide was pulling him away from shore. Remarkably, eight hours after the boat went completely under, a passing boat rescued him.
Nine months after the catastrophic event, McDornan tells the story to 60 Minutes reporter, Allison Langdon, with his wife, Sammy, by his side.
McDornan wishes that by sharing this story, he can pay tribute to his friends who tragically didn't survive.