1. Sylvia Jeffreys has some very valid questions for the royal family over their immaculate wedding photographs.
When Kensington Palace released the stunning official portraits from the Royal Wedding of Meghan Markle and Prince Harry, they were as beautiful as expected. Although there was one particular detail that had TODAY show presenter Sylvia Jeffreys scratching her head.
"I'm thoroughly impressed by the royal family's ability to wrangle children for wedding photos," said Jeffreys in an Instagram post.
"Wish they'd share their secrets."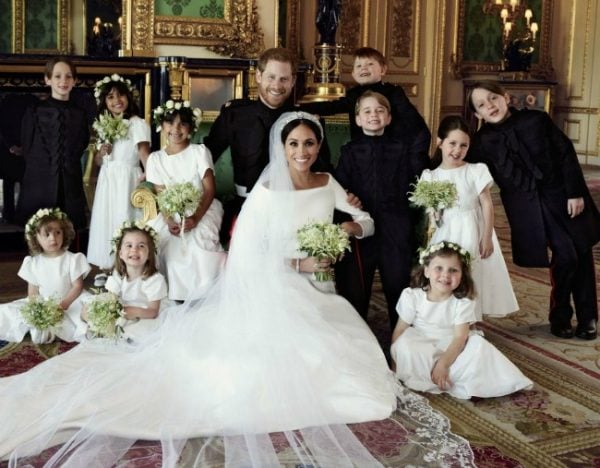 Sitting, perfectly poised around the newly married couple, the bridal party which comprised 10 children from the ages of three to seven, were all angelically staring at the photographer. There wasn't a rogue pulled-face, bunny ear or budding little anarchist in sight.
Teachers, parents and anybody that's ever tried to take a photo of multiple children will know that this is nothing short of a miracle.
In fact, the TODAY show presenter was so thoroughly impressed that she even shared a few snaps from her own wedding to Peter Stefanovic - they unfortunately weren't all so picture-perfect.
Swipe through for Jeffrey's take on wedding photos (expectation versus reality):
2. Jessica Simpson's definition of "multi-tasking" is... slightly different... compared to most 37-year-olds.

It's an old cliche, but a true one - women are great multitaskers.
Singer Jessica Simpson is no different. Okay, actually her concept of multitasking is maybe just a little different to that of the rest of us.
So when you might think of multitasking as replying to an email while you sip your tea, listening to your coworker talk about their weekend while making a mental list of the groceries you need to buy for dinner tonight (phew!) Jessica's idea of multitasking is, well, this:
As in checking her phone while two people do her hair and another does her makeup.
Like her fans pointed out, someone is probably multitasking in this photo, but it's not Jess.
3. Busy Philipps' post-surgery photo is equal parts painful and hilarious.

Busy Philipps, an American actress and one of our favourite humans, can find the funny side to everything - even getting surgery to clear her sinuses.
Post-surgery she posted a photo of herself in a wheelchair, dressed in trackies and ugg boots with what looks like a folded up tissue taped above her lip. We couldn't help but laugh, before we realised the actress is probably in pain at this moment and started to feel a little bit guilty.
But hey - at least she was comfortable.
4. Ladies, this man was the most eligible bachelor at the royal wedding. Run.
In the most important update to come from the royal wedding, it's come to our attention that Prince Harry has a single cousin, meaning that it's not too late to nab a royal beau for yourself.
Congratulations.
Meet, 24-year-old Louis Spencer, Viscount Althorp.
He's the son of Charles, Earl Spencer, who's Princess Diana's younger brother, which also makes him next in line for the earldom. And while that title doesn't carry any official powers now (apart from being a very fancy title), in ye' olde English times, earls had the power to rule over a territory on behalf of the King
Louis attended the wedding alongside his mother Victoria Aitken, and his sisters Lady Eliza and Lady Kitty Spencer.
According to the Daily Mail the Viscount completed his studies at Edinburgh University and is somehow friends with Nicki Minaj, and even appeared in an Instagram 'wedding photo' with the pop star herself in 2015.
The more you know...
Speaking of the royal wedding, here are most-inspiring quotes our now favourite wedding sermon done by Rev. Michael Curry. He's kind of fantastic, don't you think?
5. James Corden just revealed the celebrity that ditched Carpool Karaoke.
Over the years James Corden has had many a note-worthy guest for his show Carpool Karaoke.
Adele, Mariah Carey, Ed Sheeran, Harry Styles and the Michelle Obama are just some of the celebrities that have belted out their favourite songs for the well-loved segment, but there was one guest who wasn't quite keen on the concept.
Speaking on "Spill Your Guts or Fill Your Guts" with Steven Tyler, the talk show host of The Late, Late Show with James Corden said this particular guest thought that it would be a collaboration with other artists, however as fans will know... this isn't how the show works.
Corden then said that the artist just promptly got into his car and left.
"He just bolted, he was gone," he said.
To get the whole story head on over here.