1. Roxy Jacenko's toddler's cubby house is cooler than most apartments and we'd like to move in, please.
Excuse us, but we'd like to move in with Roxy Jacenko.
Well… not Roxy, per se. More so her son. Her toddler son.
Three-year-old Hunter Curtis is currently working hard on his cubby house, and has called in painters and decorators to help out. You know, as you do when you're three and super busy with all your commitments and stuff.
Hunter's humble abode can be purchased from Kmart for $199 and we'll just cut to the chase – it's legitimately more attractive than most inner city apartments. Like, there's not a two-day-old bowl of Mie Goreng in sight. We can't see mouldy bathroom walls ANYWHERE.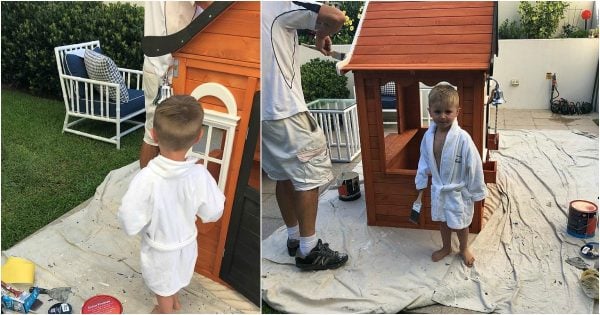 We understand this is of absolutely no importance to absolutely anyone, we'd just like to move in and play with the flower boxes and ring the custom-made silver bell, okay?
Make us some cookies in that light-bulb powered oven please, Hunter. Much appreciated.
2. Kim Kardashian's new hair is very short. That is literally all.
So a thing happened to Kim Kardashian's hair and we refuse to explain why this is a development that needs to be covered. It just... is.
SO let's observe, shall we?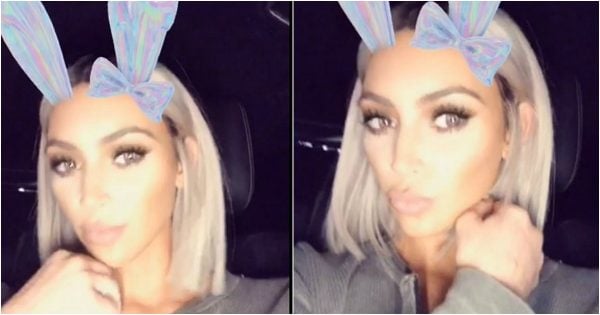 As you can see, Kim is now very, very blonde and has a bob. A short bob.
Because you can see this with your, well, eyes, we doubt you need any more elaboration. We're done here. Cool hair, Kimmy.
Onwards.
LISTEN: The Mamamia Out Loud team ask whether you can have body dysmorphia even if you post naked photos. Post continues after audio.

3. Deborah Knight is leaving Weekend Today after landing herself a shiny new gig.
In this week's news presenter pass the parcel, Deborah Knight has announced that she's wrapping up her role on Weekend Today in lieu of a "prime time" role on Channel 9.
*cue intrigue*
Knight shared a very coy tweet, hinting at changes to come. Speaking to 9Honey, her knew role will include presenting the evening news bulletin in Sydney on Friday, and Sunday, and filling in for Nine News host Peter Overton on an as needed basis.
So I have some news... a new role at @Channel9 https://t.co/WgFU9UOmx3 @9NewsSyd @TheTodayShow

— deborah knight (@deborah_knight) December 11, 2017
Ever the busy bee, because as if that wasn't enough, the new year will also see Knight filling in for TODAY host Goergie Gardner, newsreader Sylvia Jeffreys, Sonia Kruger on TODAY Extra, and file special reports for A Current Affair.
"I always do love showing the diversity of my range," the journalist told 9Honey. "I like having the ability to do different roles and thankfully within Channel Nine there's plenty of scope to do that."
In other words, we are very tired from reading this, and if she could please tell us how she does this all, then we are all ears.
4. Jimmy Kimmel shares gorgeous news about his son's heart condition while cradling him on live TV.
Jimmy Kimmel has made an emotional return to his late-night show, cradling his gorgeous 7-month-old son Billy during his opening monologue.
The TV host stepped down from his talk show last week to be with this son, who was recovering from "a scheduled and successful heart surgery".
Naturally Billy stole the show with very characteristic 'gaahaaa' / other delightful baby squeal, while papa Kimmel choked back a few tears and had everyone crying.
In his place, celebs Chris Pratt, Neil Patrick Harris and Melissa McCarthy guest hosted the show.
The surgery was baby Billy's second heart surgery. He suffers from a congenital heart condition and is due to have one more surgery.
You can watch Kimmel's tearful monologue here, but be prepared to get emotional!
5. Congratulations! Dancing With The Stars pro Kym Johnson is pregnant with her first son.
There's nothing we love more here at Mamamia then overly investing ourselves in the lives of reality TV stars, and if you're here right now reading then we'd hazard a guess and say you do to.
And in today's breaking news, dancer and Dancing With The Stars judge Kym Johnson and her husband Robert Herjavec are expecting a baby boy!
The Sydney-born 41-year-old shared the news of her first baby on Instagram, sharing a sonogram photo.
Kym and her husband married in 2016. Their son will be the fourth child for Robert Herjavec, who has three children from his previous marriage to Diane Plese.
Congrats, Kym!