The past year has not been kind to high-profile business mogul Roxy Jacenko. Her husband, Oliver Curtis, was imprisoned for insider trading in June, then just three weeks later the Sydney PR boss discovered a lump in her breast. A lump that turned out to be cancerous.
But while the timing of the discovery was torturous for the 36-year-old, it was also potentially life-saving.
"It was just lucky I was rigorously washing off my spray tan, which is why I noticed it," she told 9Honey.
"And it was fortunate I noticed it when I did, because the treatment process that I went through post that would have been potentially very different."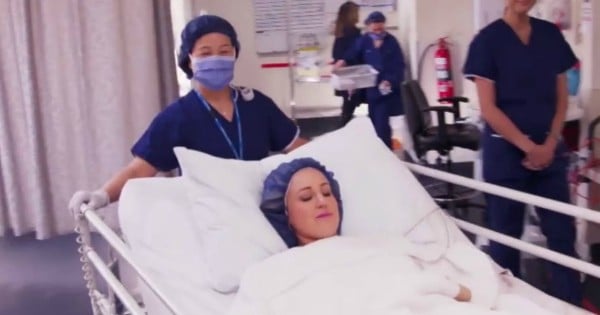 Roxy's operation was captured by 60 Minutes. Image: Channel 9.
Despite the fact her mother had previously suffered the disease, Jacenko described her own diagnosis as "a shock".
"It's really weird. You would think that if your mother had had it you would be really mindful of checking those kind of things, but it wasn't even in my mind," she told 9Honey.
"You know, I was working, I've got the children, obviously there was a lot of drama with my husband. And it was not really something I was thinking 'I best be checking'. But in hindsight now, it's like, it's negligent. Check!"