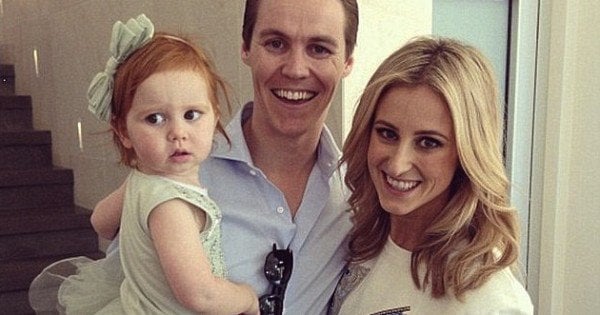 The investment banker husband of PR entrepreneur Roxy Jacenko, Oliver Curtis, has been found guilty of committing insider trading today.
On the tail end of a three week trial, in which John Hartman – his former best friend – testified against him, the wealthy Sydney socialite is now facing up to five years in prison and/or a $220,000 fine.
The decision comes after Hartman provided evidence of the pair's insider trading scheme, which they employed in 45 instances between May 2007 and June 2008. Allegedly, the friends profited approximately $1.4 million from the illegal trades, and splashed the cash on luxury holidays around the world including a wild stay in Las Vegas and an extravagant snow trip to Whistler. One email sent by Curtis suggested the pair should hire a helicopter to tour Canada, because they would be "too hungover to drive".
Other purchases included a $20,000 Ducati motorcycle and a $60,000 Mini Cooper. Allegedly, they also rented a $3000-a-week bachelor pad together in Bondi with their illegal profits.
Curtis and Mosman were firm friends since they were children, growing up in the affluent Mosman area on Sydney's north shore. They were also peers at the exclusive Saint Ignatius' Riverview College together.
According to Hartman – who has already served a two year prison sentence for the crimes – he would send trading information he gained in his job as an equities analyst with encrypted Blackberry PIN messages to Curtis. The pair would then use the information to buy or sell financial instruments, which track the price of shares on the stock market. Curtis has two young children with his wife Roxy, Pixie, four, and Hunter, one.