Roxy Jacenko's interview with 60 Minutes last night has certainly got people talking.
The PR firm founder spoke about life with her husband in prison, looking after her two young children singlehandedly and put to bed any rumours that she "lied" about having cancer by filming her surgery to remove the very real breast cancer.
The 36-year-old also revealed that despite recommendations from surgeons from Sydney's St Vincent Hospitals that she undergo a full mastectomy, she decided against it.
"I suppose unlike everything else in my life where I go full pelt, this was one thing I wanted to do in what I guess you could call a 'phased' approach rather than going 'OK, we'll chop off my boobs'," she said during the interview.
"I also think we need to have a look at what has transpired in the last six weeks of my life and making such rash and big decisions right now, I don't think I'm in the head space to do it."
A mastectomy required the removal of the breast, nipple, areola and sentinel lymph nodes.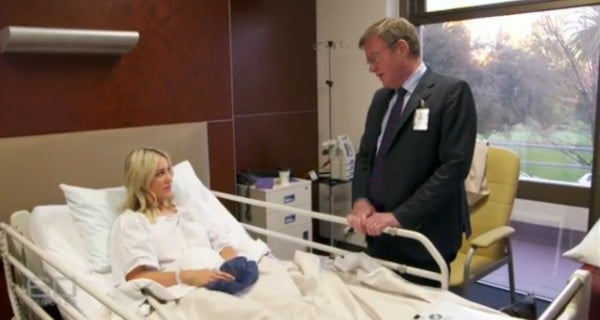 Image: Channel 9/Screenshot
Jacenko underwent surgery to remove the cancer, surrounding tissues and affected lymph nodes at Melbourne's Epworth Freemasons hospital, with the 60 Minute crew filming the whole process.
Specialist Breast Surgeon and Surgical Oncologist Professor Bruce Mann conducted the surgery and maintained  Jacenko's decision to remove only the lump in a lumpectomy was just as safe in her case as it would be to remove the whole breast.
Jacenko's decision surprised a number of viewers, but breast surgeon and Pink Hope Medical and Professional Advisory Committee member Dr Jane O'Brien believes there's nothing to be concerned about.
"There is no evidence that the survival or treatment of breast cancer is in any way altered by being more or less radical with respect to surgery. There will be a proportion of women who a lumpectomy is not appropriate for a few reasons, the most common being the amount of tissue that needs to be removed versus the size of a woman's breast," she told Mamamia.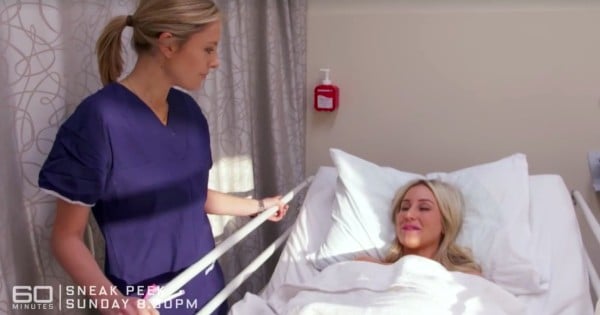 Image: Channel 9/Screenshot
Around 35 per cent of Australian breast cancer sufferers opt for the mastectomy, although not all actually require it.
Family history of the disease, concern for the aesthetic appearance of the breast and getting rid of the need for subsequent surveillance which can be very anxiety-provoking are often reasons people oft for the more radical option of mastectomy rather than the lumpectomy.
"Patients who are suitable for lumpectomy are almost always given the choice of the two. While it depends on individual cases, if a subsequent surgeon felt it was safe to conserve the breast, it is unlikely she has taken a significant risk with her cancer treatment," she says.