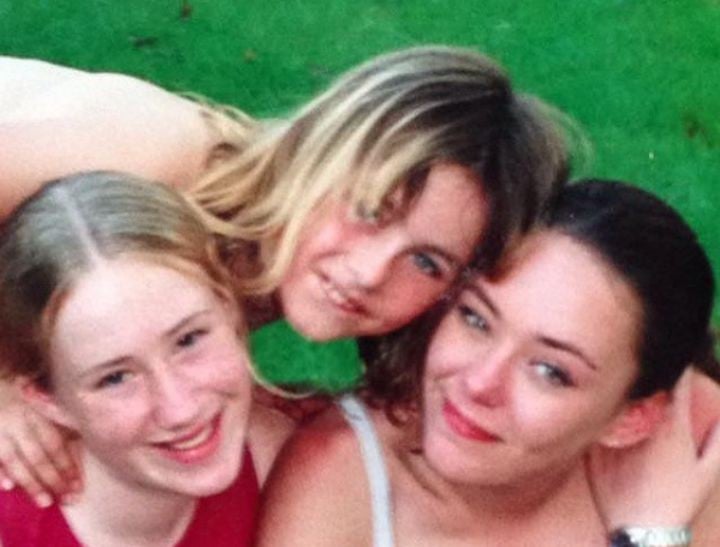 Last night was a very special night for the Mamamia Women's Network family. One of our own, the incredible, resilient, hilarious, wonderful Rosie Waterland launched her very first book, The Anti-Cool Girl.
Published by Harper Collins, The Anti-Cool Girl tells the story of Rosie Waterland's life. It's a heartbreaking, powerful, poignant and, at times, hilarious look at her upbringing.
Mamamia publisher Mia Freedman launched Anti-Cool Girl last night and gave a beautiful speech before Rosie took the stage.
You can read that speech in full below.
Welcome to Rosie's wedding. Her 21st. Her bachelorette party. Her night.

I began reading Rosie's book early one morning a few weeks ago on a plane to Brisbane.

I didn't want the plane to land which – for someone who used to be terrified of flying – says a lot about what a gripping read it is.

This is a book that doesn't grab you by the throat. It grabs you by the heart.

I thought I knew the broad brushstrokes of Rosie's story – we've spoken about her traumatic childhood often over the years I've known her, but I knew nothing. Not really. Not until those hours on the plane.

I couldn't wait until my meetings in Brisbane were over that day so I could hop back on a plane and keep reading.

When I landed in Sydney, I still wasn't finished so I walked into the airport, plonked myself down in the nearest plastic bucket seat next to the gate, and finished the last 60 pages (even though it was 7pm and my kids were waiting anxiously for me at home.)

I'd only been away from them for a few hours but they missed me. They called me while I was sitting there in the airport. They texted. "When will you be back mummy?" Soon! "Where are you?" Um, just in the car on my way from the airport!

The younger ones wanted me to come home and climb into bed with them and give them a cuddle so they could tell me about their day, confess their fears and anxieties, share their triumphs and feel safe in the way they only can when they're wrapped in my arms.

My teenager wanted to chat and just to know where I was.

The contrast between the lives of my children and Rosie's childhood could not have been more stark in that moment.

Countless nights when Rosie and her sisters waited and worried for parents who never came home. And when they did, they brought with them the reckless, toxic confusion of dysfunction. They tried, Rosie's parents, they did.

They did the best they could to parent their girls with the incredibly limited tools they had and the addictions and demons they battled.

Rosie with her sisters. Image: Supplied.

But the trail of devastation – emotional, physical, mental, logistical – they left is the scaffolding of Rosie's book. And in its own funny way, the scaffolding of the incredible woman she has become.

And as I sat there in the plastic chair at the airport gate that night, finishing The Anti Cool Girl, I felt incredibly emotional.

I'd felt emotional all the way throughout reading her story, even though it is whip-smart funny in so many parts. I laughed a lot as well and if you haven't read it yet, you will too.

When I got to the end, I put the book down and I tried to name my feelings – I'm such a child of therapy, so it's no wonder Rosie and I have always gotten on so well.

So here's how I felt after reading Rosie's book: I felt angry. Devastated. Shocked. Enlightened. Horrified. Fascinated. Amused. Appalled. Outraged. Incredulous. Impressed. Astonished. Indignant. Amazed. Overwhelmed. Incensed. In awe.

But mostly, I felt such a strong sense of protection. I felt like I wanted to travel back in time and protect Rosie when she was a child, and Rhiannon and Tayla. I wanted to protect them from the trauma and chaos of their childhood, from the fear and the shame and the neglect and the despair. The worry, the anxiety and the 'toxic butterflies' as Rosie so beautifully describes her anxiety, the butterflies that lived in the pit of her stomach and flapped their wings with alarming frequency from as early as she can remember.

Rosie as a child. Image: Supplied.

I wanted to go back and slay Rosie's dragons. The deeply dysfunctional and addicted parents, the cruel bullies, the procession of her mother's love-interests, bewitched by her mother, who traipsed through the lives of three bewildered and desperately plucky little girls.

A lot is said of resilience these days. How important it is. How lacking it is in so many kids – and adults.

To me, the definition of resilience is the fact Rosie and her sisters are here with us tonight. Not just here in body but here in spirit. What extraordinary spirit.

To even survive the start they were all given in this life would be impressive. But to thrive in the way they all have is truly remarkable.

Rhiannon as a wonderful, loving, protective mother of Allira and Mo. Tayla, studying to be a social worker so she can help kids who are struggling like she and her sisters did – kids desperate for the love, kindness, understanding and advocacy that she and her sisters saw so little of.

And Rosie. Rosie who is a best-selling author and actual friend of Osher Gunsberg. Rosie who has made an art form out of the recap and has shown an extraordinary ability to write everything from peen jokes to breathtakingly personal, heartbreaking tender stories and feisty opinions.

Rosie at her launch. Image via Instagram.

Rosie, who has created her own families around her with such mastery when she found her parents and extended family so very lacking.

She has four of those families here tonight.

There is of course her biological family – her beautiful sisters and her scholarship student of a niece, Allira.

There's her family of friends who have stood by her and at times, as she writes so movingly in her book, literally saved her life: most notably Jacob and Tony.

There's her Mamamia Women's Network family who have loved her since she was a wee intern and who are bursting with pride at all her achievements.

And finally her newest family, her Harper Collins family who just GOT Rosie and her book from the moment they met her and maybe even before.

Rosie, what a credit to you my beautiful friend that you have gathered such loyal, loving and supportive networks around you. We all have your back. We always will. And we are ALL so incredibly unspeakably extraordinarily proud of you, our very own Anti-Cool Girl.