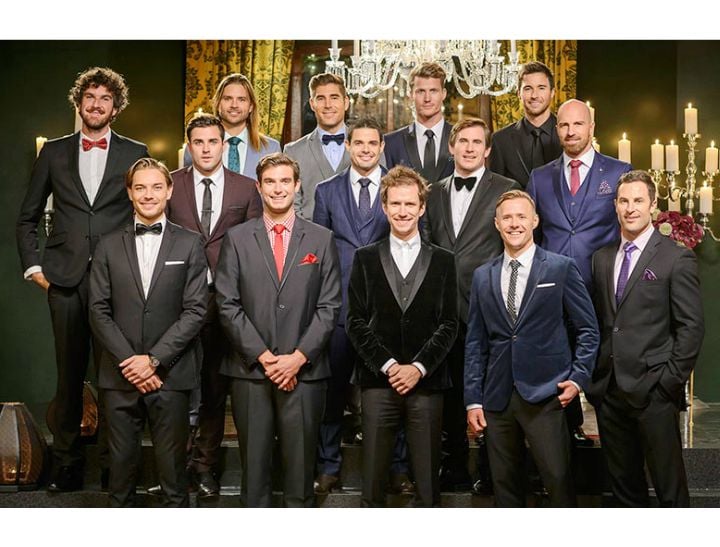 Missed last episode's recap? Get on that. Read it here.
Okay so this is officially going to be the most boring episode so far, as we open on Peen Palace and are subjected to a five-minute long scene in which the Peen Owners talk about every possible detail of the date card without actually just opening the fucking date card. Some producer is surely standing right behind the camera threatening to cut off their porn privileges if they don't… keep… talking…
Which they do. They talk, and then talk some more, then laugh and punch each other in the arm because #MateshipNotBitches etc etc etc. Time adequately filled, the date card is opened. Alex, the English dude who I forgot about until right this second, is chosen to present his peen to our Bachie Queen. This is his happy face:
But I don't care about it as much as this glorious image:
Oh wow. Jesus. They must have really struggled to pull this thing together tonight. Next up is a montage introducing us to Alex, because a) besides his being bald and English I'd forgotten everything about him, but mostly b) it fills another 2 minutes and hopefully gets us through to that (fucking glorious) Gogglebox show.
Pointless montage segment out of the way, it's time to check on Bachie Queen at Peen Slayer HQ. Oh, isn't that nice. She's relaxing on the couch in her PJs with a well-worn copy of Anna Karenina. Lol jks – she's prettifying herself under the good lights in the bathroom. And HOLD UP. WOAH. I think somebody really wants us to know that Bachie Queen is very fond of a particular brand of oral hygiene product.
Oh and now Bachie Queen is just casually looking in the mirr –
Wowsers. All this scene needs is the Brand Power lady force-feeding Bachie Queen Vita-gummies while Dawn Fraser sits on the bed with her feet on that ankle-vibrator thingy. And maybe Paul Mercurio talking about funeral insurance, just to round things out.
SINGLE DATE TIME!
They go flying in some planes that look like the one Amelia Earhart disappeared in. Much screaming/squealing/saying the name of the company that no doubt provided the experience free of charge.
Next up is a Magic Sex Couch in the Botanical Gardens, situated next to a glass butterfly prison, which they never used in The Bachelor because it is just too perfect a metaphor. Bachie Queen can't seem to take her eyes off English Alex, but I'm attracted to one thing on this date and one thing only:
They talk about their feelings. Talk about life. Stare into each other's eyes. DON'T EVEN TOUCH THE CAKES WHO THE FUCK ARE THESE PEOPLE? She gives him a rose. The end.